top corner
Mad Marty Wilson and Richard "nutsinho" Lyndaker Pass Away
1503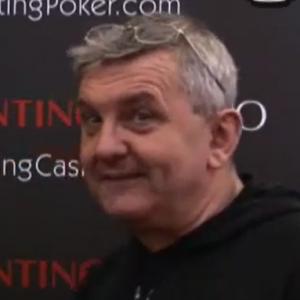 The reality of poker life is that it eventually comes to an end. If we are lucky, it will not be until we are much older, but some pass on before their time. Recently, the poker world lost two well-known players in Richard Lyndaker and Mad Marty Wilson.
Wilson passed away a week ago after a short battle with cancer. Lyndaker passed away suddenly earlier this week after an accidental overdose of pain medication.
Lyndaker Considered Legend of High Stakes Online Games
Earlier this week, a post on TwoPlusTwo forums revealed that Richard Lyndaker, aka "nutsinho" has passed away due to an accidental overdose of pain medication. Lyndaker was taking the prescribed medication due to a soccer injury and overdosed sometime between July 29 and July 30th in his San Diego apartment. Lyndaker was 33.
Lyndaker was originally from New York and became a fixture of mid-stakes online poker games around the Poker Boom. He soon met up with Tom Marchese and William Reynolds and soon his career began to take off.
His live tournament poker career saw him amass $1.87 million in earnings, capped by a runner-up finish in the $5k NL Event at the 2008 WSOP. His only career victory came in the HPT Las Vegas Main Event in 2013. In 2018, his last career cash came in the $10k PLO Championship at the 2018 WSOP where he finished 9th.
By 2010, Lyndaker was one of the top online poker players in the world, eventually playing as high as $300/$600. While he suffered some large downswings at times, he was still considered to be one of the most fearsome players in high stakes online poker.
Poker players around the world took to Twitter and other social media. Doug Polk was among those that spoke about their memories of Lyndaker:
Wanted to take a moment to say how sad I am that Nutsinho passed away. I remember watching Stars NL 5k back in the day and thinking "this guy is an absolute sicko". It was seeing guys like Rich play that made me dream big in poker, it just feels so unfair that he is no longer…

— Doug Polk (@DougPolkPoker) August 2, 2019
Lexy Gavin also tweeted about Lyndaker's passing:
The world morns the loss of a truly beautiful person, one of the world's greatest poker poker players, and one of the most kind-hearted people I've had the joy to know. I will cherish the times we had. RIP Rich Lyndaker (Nutsinho) you will be missed 💜 pic.twitter.com/HP0USUUo4x

— Lexy Gavin (@ChipTrick11) August 1, 2019
Mad Marty Wilson Passes Away from Cancer
If you're a British poker fan, you probably know Mad Marty Wilson for his stints on Late Night Poker. For the rest of the poker world, he is largely known as a poker commentator and reporters. Unfortunately, Wilson passed away last Friday after a six-month fight with cancer. He was 62.
Wilson was one of the early characters of the Poker Boom, mostly thanks to Late Night Poker. His outgoing demeanor and flair for storytelling endeared him to a nation of poker fans. Some even credit him with helping to ignite the Poker Boom in Ireland and the UK.
Wilson had live tournament cashes dating back to 1997 with his biggest coming at the Carnivale of Poker in 1998 when he won a $1k NL Event for $68,400. He earned just over $451k in live poker events.
Outside of the tables, Wilson had worked as a poker commentator, reporter, and columnist. He also taught multiple celebrities how to play poker, including Tom Cruise of Mission Impossible fame.
Poker players and media professionals from around the world took to Twitter to pay tribute to Wilson:
'Mad Marty' Wilson made you smile just entering a room he was in. He was a true character in the poker world – one of which we'll not see again. RIP Marty! ♥️ https://t.co/wLgcm5WnbV

— Mike Sexton (@Mike_partypoker) July 27, 2019
That sparkling firework of the British poker scene Mad Marty Wilson passed away last night. He was one of the most memorable, twinkly, mischievous, life-enhancing characters you could ever meet, who brought so much laughter and fun and will be remembered with so much love. RIP.

— Victoria Coren Mitchell (@VictoriaCoren) July 27, 2019
I just learned from @padraigpoker and @joebeevers that "Mad Marty" Wilson, the pride of Wolverhampton, died last night. He succumbed to pancreatic cancer at 62. "Mad Marty" was one of poker's most endearing characters. I posted a few old Marty stories on my Facebook page. RIP. pic.twitter.com/Wzpvr8mxU7

— Nolan Dalla (@nolandalla) July 27, 2019
Back in February, Wilson was diagnosed with cancer and began what ended up being a six-month fight. After his passing, his wife Katherine told hat he battled cancer with both dignity and humor.
In the early day of the Poker Boom, personalities like Mad Marty were instrumental in bringing new players to the game. Mad Marty had a lifetime of poker anecdotes that he willingly shared with others and everyone loved hearing the madman talk. Players like him are a rarity in today's game and we hope that we all can look at the rest of our lives with the same dignity and humor that Mad Marty Wilson did with his.
bottom corner