top corner
Loren Klein Uses MAGA Hat to Fuel $10k PLO 8-Handed Championship Victory
576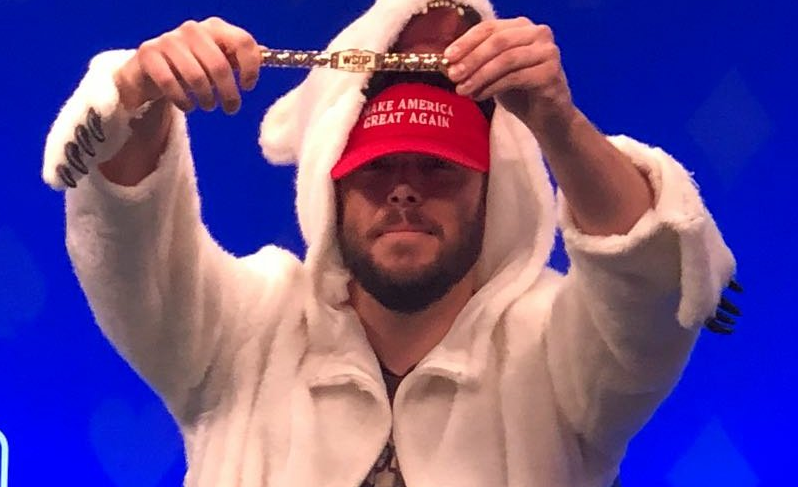 The poker world may have finally found the one person they can hate on more than Chris "Jesus" Ferguson. Loren Klein won the $10k PLO 8-Handed Championship on Tuesday night but the way he won it has caused a storm of controversy that may actually trump (pun intended) that of Chris Ferguson's continued prescience at the WSOP.
Klein has been wearing a "Make America Great Again" hat during the event and continued to wear the hat during the final table. He also added a polar bear costume for good measure en route to winning his third WSOP bracelet in as many years along with $1.01 million in prize money.
Klein Using Hate to Motivate Him to Win
Normally this would be the time we'd recap what happened at the event, who made the final table, and how the winner took down the event. This time around, the poker is almost secondary.
After the final table for the $10k PLO 8-Handed Championship was set early Tuesday morning, Brandon Shack-Harris tweeted the following:
FT 10k PLO with a bunch of friends. Fun Fact: Any time I've sat at the same table with @lorenkln one of us has shipped. Here we are again!

— Brandon Shack-Harris (@Oscillator_WSOP) June 26, 2018
Shack-Harris was prophetic, but he wasn't the beneficiary of his prophecy. Rather, it was Klein who won, and in doing so has thoroughly pissed off poker fans the last couple of days with his MAGA hat.
Vanessa Selbst made her thoughts perfectly clear:
A-fucking-men.

And while I'm at it, fuck this assclown on the poker stream wearing a MAGA hat making it so I can't even watch without puking my brains out. 🤮 https://t.co/KVPcmQkOVa

— Vanessa Selbst (@VanessaSelbst) June 27, 2018
Other poker fans shared the love, we mean hate:
Here's a rhyme for you – I hope someone sets your hat on fire while you're wearing it

— Peter Saurus (@PokerAndRap) June 26, 2018
@lorenkln lose the tournament, stub your toe and fall on your way out

— Matthew Walton (@Matt_B_Walton) June 26, 2018
believing that Shack a/k/a @Oscillator_WSOP is going to end up out-playing the pants off of the dweeb in the Trump hat a/k/a Loren Klein

— Pucks'nChips (@chkrpoker) June 27, 2018
Actually, not so much. Brandon Shack-Harris finished third.
Not everyone hated the hat:
@lorenkln Congratulations! You took a big crap on the poker elite tonight! #maga

— Jake Ingebrigtson (@jakeinge) June 27, 2018
@lorenkln GG MAN GREAT WIN

— SBINLET1 ♥ ♣ ♠ ♦ (@SBINLET1) June 27, 2018
@lorenkln I don't really care what hat you wore, congrats on another big plo tny win.

— Len Ashby (@ZENofLEN) June 27, 2018
3x Champ go to the @WhiteHouse

— Eric Crocker (@ECrocker34) June 27, 2018
Klein used the MAGA hat to motivate him at the final table. He told PokerNews following his bracelet win that, "All the haters really helped me to bring this one home. It felt amazing, and I can't wait to talk to all of them when I see them in the Rio hallways, I might even wear the bracelet for a bit. People have been talking shit about the MAGA hat for days and wishing me bad things all day today, it is fantastic."
Of course, after winning the event, Klein took one more jab at the haters with the following:
#NewProfilePic pic.twitter.com/eZBItug0vh

— Loren (@lorenkln) June 27, 2018
Klein Making PLO Great Again
What was missed by some amid the controversy behind Klein's choice to wear a MAGA hat at the final table was that he won his third WSOP bracelet in as many years. Two of his bracelet wins were straight PLO events while the third was a mixed HO.
In 2016, Klein wont he $1,500 Mixed NL Hold'em/PL Omaha Event for $241,247. Last year, he took down the $1,500 PLO bracelet and then he won this year's $10k PLO 8-Handed Championship for the largest cash of his live tournament career.
What some don't know is that Klein also has a pair of runner-up finishes in Omaha bracelet events. He finished runner-up 2010 in the $2,500 PLO and in 2016 he finished runner-up in the PLO 8 Championship.
In addition to the bracelet and prize money won, Klein also earned 1,194 points toward WSOP Player of the Year. He has one cash prior and we estimate he has about 1,245 points. After point counts are adjusted, he should fall somewhere between 30th and 40th on the POY leaderboard.
There are still five Omaha events remaining on the schedule, so if he continues to run hot, we could see him climb the leaderboard. How crazy will the poker world get if Klein were to win WSOP POY the year after Chris Ferguson won it? Can the poker world handle seeing a giant MAGA hat on display for six weeks each year?
Yes Chris Ferguson, there is a Santa Clause and he's wearing a MAGA hat.
Photo Courtesy – WSOP.com
bottom corner