top corner
Kentucky Beginning Collections Against PokerStars
2974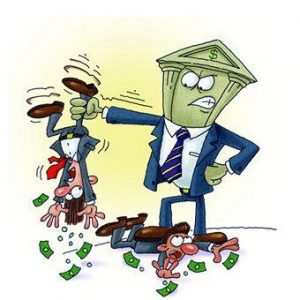 Kentucky is taking the next steps in making PokerStars pay for offering unregulated online poker in the state. Back in December, the Kentucky Supreme Court reinstated a judgment against the company for $870 million. With interest, that judgment is now $1.3 billion.
Flutter Entertainment now owns the company and is on the hook for the judgment. They tried to get a rehearing of the verdict, but the court has denied it. In the meantime, Kentucky will try and move forward with trying to collect the judgment as Flutter considers its next move.
Kentucky Looking to Collect on $100 Million Bonds
Back in 2016, PokerStars was forced to post $100 Million in bonds following its initial loss in its case with Kentucky. The bonds have been sitting in limbo over the last five years as PokerStars appealed its case. The initially won its appeal but a KY Supreme Court overturned the ruling and reinstated the judgment.
According to Kentucky.com, lawyers for the state have filed a motion to collect on those bonds. The motion is presently in Franklin Circuit Court. A hearing on the matter will take place on April 19th. Lawyers can move forward with collection proceedings after the Supreme Court denied a request from Flutter Entertainment to rehear the case. They made that decision this past Thursday.
Kentucky moves to collect part of $1.3B owed by PokerStars after Supreme Court's ruling: Lawyers for the state are filing a motion in Franklin Circuit Court to collect $100 million in bonds posted five years ago by PokerStars. The Supreme Court on… https://t.co/iHvrCOpCsL

— Yogonet News (@YogonetNews) March 26, 2021
The question now is whether KY will get any money out of Flutter. Back in 2016, PokerStars executives were quotes as saying that the state would never receive a dime of the then $870 million. According to a motion filed in Franklin County at the time, executives stated that the state "would not recover '$870 million, not $870, not even $87."
According to reports, the state tried to get PokerStars' bonds raised past $100 million due to those comments but was denied their request.
What's Next For Flutter?
Flutter Entertainment does not appear ready to give up any money to Kentucky as of yet. Following the KY Supreme Court's denial for a rehearing, Flutter issued a press release on the matter. Below is part of that statement:
"Flutter is disappointed by the denial of its rehearing petition and continues to strongly dispute the basis of this judgment. Together with its legal advisors, Flutter will continue to consider its position in relation to the judgment, including potentially appealing the ruling of the case to the US Supreme Court along with other legal avenues which it may pursue thereafter.
Flutter remains confident that any amount ultimately paid to resolve this matter will be a limited portion of the reinstated judgment."
Kentucky Supreme Court rejects @PokerStars re-hearing request, @GovAndyBeshear again misrepresents Stars, @FlutterPLC eyes SCOTUS appeal. https://t.co/mbaFRohA9J #onlinepoker #PokerStarsVsKentucky

— Legal US Poker (@legal_poker) March 27, 2021
If we are looking at this matter realistically, the chances of Flutter getting the US Supreme Court to hear this care are slim to none. The court will hear around 100 cases this year, and most of them will involve matters of significant legal consequence.
Instead, Flutter may be better suited to try and arrange some sort of settlement with the state. It is hard to see Flutter paying the full 1.3 Billion for offering online poker in the state. What we could see them do is pay somewhere around the amount of money that was supposedly lost by players in the state. We aren't talking about $18 million for rake, but the $290 million the state says that players lost in poker games from 2006 to 2011.
Considering that there are already $100 million in bonds already out there, that would mean that Flutter would have to come up with $190 million to make this go away. That would be substantially less than the $1.3 Billion the company is already on the hook to pay for. It will likely be a few months before we discover what's next in this case, but don't be surprised if a settlement isn't reached by the end of the year.
bottom corner