top corner
Journalist Maria Konnikova Wins PCA National Championship
228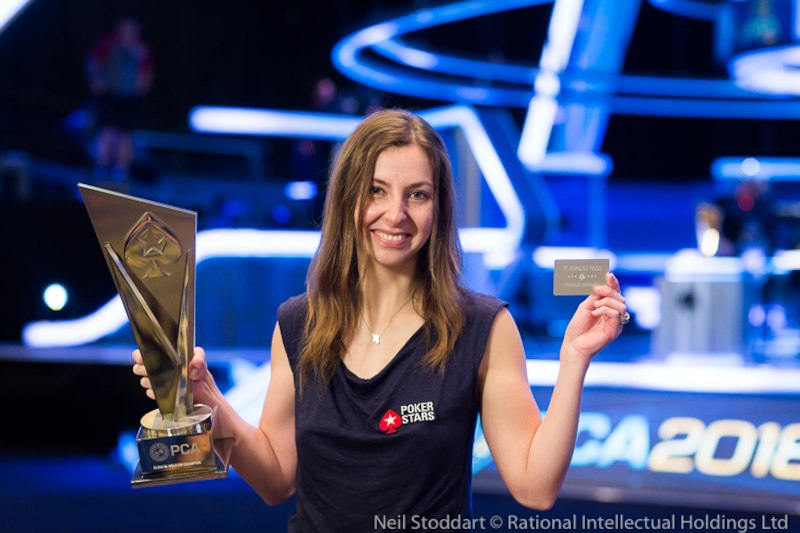 Imagine you're an author setting out on a journey to become a poker pro in a year. Then imagine picking up a coach who is an all-time legend of the game. Finally, imagine winning a tournament that suddenly puts you into the running for one of the richest prizes in poker.
While that sounds like a Hollywood movie script, that's just what happened on Tuesday at the PokerStars Caribbean Adventure. Journalist Maria Konnikova took down the $1,650 PCA National for her first live tournament win and a seat in the PokerStars Players Championship in January 2019.
Konnikova Defeats Field of 230 To Win First Live Event
The $1,650 PCA National kicked off on Sunday and drew a field of 230 entries, creating a prize pool of $421,950. Over the course of two days, the field was whittled down to the final table. Heading into the final table, Alexander Ziskin was the overall chip leader with author Maria Konnikova right behind him.
Pros Harrison Gimbel, Kevin MacDonald and online poker superstar Chris Moorman also made the final table of the event. This final table almost featured two women, but Sharman Olsham fell in 9th place when her A-Q failed to outrun the pocket jacks of Ryan Smith.
The action at the final table was hot and heavy with multiple players holding the chip lead throughout. However, it was Maria Konnikova catching fire at the right times to make her way to heads-up play. She first made a huge double against Loek van Wely when her pocket sevens cracked his pocket aces.
Later, she three-bet shoved Kh-Jh and found a caller in Kevin MacDonald. She flopped a set and rivered a full house to double again. She then jumped into a massive chip lead after knocking out Kevin MacDonald in third. He four-bet shoved with Ad-2s and Konnikova called him with Ah-Kh. Konnikova made a straight by the river to make it heads-up.
Heads-up against Alexander Ziskin, Konnikova had more than a 3:1 chip lead. It wasn't long before she sealed the deal. Ziskin soon found himself all-in during a hand with Jd-8h for both a gutshot straight and a flush draw. Konnikova held Ac-Ks for a better flush draw. The river was a king and Konnikova took her first live title.
For her win, Maria Konnikova earned $84,600. However, the street cred that she earned for her upcoming book will likely be much more valuable.
Konnikova Takes Advantage of Coaching from Erik Seidel to Win Title
A year ago, Konnikova approached legendary poker pro Erik Seidel about coaching her in the game. Her goal was to play poker for a year and then write a book about her experiences. During the last year, Konnikova has had a reasonable string of cashes and three runner-up finishes in small tournaments. She also cashed three times during the 2017 World Series of Poker.
Heading into the PCA National event, she had amassed about $30,000 in earnings. Well the coaching received by Seidel paid off in this event because she almost quadrupled her lifetime earnings. In addition, she received a Platinum Pass for the PokerStars Players Championship event next January at the PCA. That pass is worth $30,000.
When asked about winning the event, she told PokerNews, ""It feels amazing. I started poker from scratch a year ago. I have the best coach in the world, Erik Seidel, so I've been very lucky. I've been working really hard and it's so validating to achieve this."
Seidel gave Konnikova some additional tips and coaching during her final table, but by text. He was a bit busy himself trying to take down the $50k High Roller. He made the final table of the event and finished in fourth place for $260,260.
According to reports, Konnikova's book is supposed to be out later this year, but after taking down this event, she says she will be asking for an extension. With any luck, her final chapter will be all about her deep run in next year's PokerStars Players Championship.
Photo Credit: PokerStars Blog
bottom corner