top corner
How to Play Online Poker Without Making a Deposit
729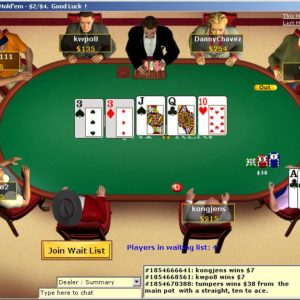 Let me tell you a secret. You don't have to risk any of your own money to play poker! Yes, that's right. Poker sites want to attract new customers and to do so they use several different promotional tools. Two of those tools makes it possible for you to play poker for real money without having to risk any of your own money, so-called no deposit poker. Too good to be true? No! Continue reading to learn more.
Poker Freerolls
There are literally hundreds of freerolls every week on different poker sites and networks. A freeroll is a tournament that has no buy-in. It is free-to-play. Some of them are open to everyone with an account at that site, and other poker freerolls are restricted, which means that only customers from certain countries, poker clubs or other groups of people are allowed to enter the tournament.
Because it is free to enter, freeroll tournaments usually have huge fields of entrants fighting for a prize. It is not uncommon to see a few thousand entrants fighting for a total prize pool of $1000. This means that although you won't get rich playing these freerolls they certainly make an excellent training ground for beginners, especially since you don't have to risk any of your own money. Other types of prizes also exist in freerolls. Tournament tickets, bonuses, and gadgets like iPads and Kindles are things you can win apart from real money.
The great thing about winnings from poker freerolls is that they are yours to use how you see fit. If you win $20 from a freeroll, you can use it to play in cash games, tournaments, Sit & Gos, or even choose to cash out. There are no wagering requirements on freeroll winnings. They are treated the same as other forms of tournament winnings.
No Deposit Bonuses
A great way to play poker for free is to sign up for a no deposit bonus. A no deposit bonus means that an online poker site gives you a sum of money to play any of their real money poker games.
No deposit bonuses are generally offered to new account signups, but they may be offered to regular players. Generally, you have to opt-in for the bonus. This is another great way to play poker for free, but it does generally come with a catch. There is usually some form of playthrough requirement in order to cash out, usually at least a 1x playthrough. See the terms and conditions of the bonus for more information.
Why Do They "Give Away" Free Money?
Freerolls and no deposit poker bonuses are something we can really recommend, especially for beginners in the poker world, but even more experienced players can benefit from these kinds of promotional tools. Maybe you don't have money to deposit or maybe you just don't want to risk any of your money right now. In that case, no deposit poker is the way to go. You have nothing to lose and everything to win! It is truly free poker money.
Now you might be asking: What's the catch? Is it real money? How can online poker sites just give money away? And why do poker sites give away money like this? Well, it's not charity, it is a way to attract new customers and hopefully, a few of them will stick around and gamble when the no deposit poker bonus is long gone.
In most cases, a player will blow through their freeroll or no deposit bonus money and then make a real money deposit on the site. The amount of money given away by the casino is generally insignificant to the amount of money they take in deposits from the same players. It is one of the few win-win situations you will find on online poker sites.
bottom corner