top corner
Hot Topics Being Discussed About 2020 WSOP Online
2404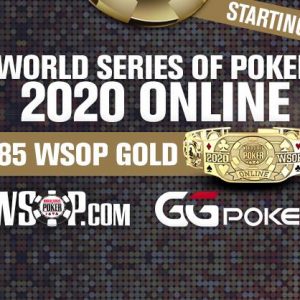 The 2020 World Series of Poker Online is about to kick off the GGPoker leg of the series. While we are not even halfway through the entire series, there several things that players and fans have been talking about.
This series has garnered a ton of speculation and drawn a lot of criticism. Today, we take a look at a few of the hot topics people are discussing pertaining to the 2020 World Series of Poker Online.
The World Series of Nevada and New Jersey
One complaint that I've heard from many people is that the first group of WSOP bracelets is only going to be available to those playing in New Jersey or Delaware. There aren't many people who were willing to travel to America to play online poker.
As such, all but one champion has been American to this point. Some are calling it the World Series of Nevada and New Jersey since that's the only place you can play. Granted, the same argument could be made for the live series, but there are many players that travel around the globe to play live at the Rio. Traveling around the world to sit behind a computer does not have the same thrill.
Granted, the same argument will be made for the GGPoker bracelet events. They will be locked out to Americans, and Americans will have to travel out of the country to play on GGPoker. Granted, they can go to Mexico or Canada and play. Still, they have to leave the US in order to play.
How Many People Are Playing Alone?
The speculation behind whether we will run across teams playing WSOP bracelet events together was ignited before the start of the series. After the start, there's been additional speculation. This is fueled by videos or pictures of bracelet winners and their "rails" watching them. Logically, you know there are going to be people coaching their buddies.
Iowa's Ron "MacDaddy15" McMillen had never played online poker before, but that didn't stop him from winning tonight's @WSOP Online Event 9: $1,000 No-Limit Hold'em 6-Max for $188,214.

Even though the game is online this summer, we still get special moments like this! pic.twitter.com/6dnGXKhMTQ

— Chad Holloway (@ChadAHolloway) July 10, 2020
We know that team poker is a thing and online bracelet events increase the possibility of teams coming together to win an event. Will we ever discover the truth behind a team winning a bracelet? Time will tell.
Smallish Prize Pools
One thing that is bugging me is how many people are winning bracelets and just cracking $100k for taking down a tournament. While this is to be expected when playing events limited to two states, it still sticks out like a sore thumb.
An NL Hold'em champion taking down less than $100k for a bracelet win in today's era seems wrong. I can understand smaller prize pools in PLO8 events or low buy-in PLO events, but several NL Hold'em events barely awarded $100k to the winner.
Do These Bracelets REALLY Mean the Same as Live Ones?
While there have been a couple of good stories thus far in the WSOP online series, one has to wonder whether these "wins" are truly going to hold up historically. While it is great to see Alan Goehring and Michael Lech finally win a bracelet, are future players going to view these as legit or will they look at these titles like we do online poker titles?
2015 MAIN EVENT CHAMP JOE MCKEEHEN WINS HIGH ROLLER TO CLAIM 3RD BRACELET AND $352,985
Read more and watch rebroadcast of the final table on https://t.co/k6cF9AXBYe pic.twitter.com/bDooCQ9Njy

— WSOP (@WSOP) July 15, 2020
Joe McKeehen is the biggest name to win a bracelet in this series, taking down his third bracelet in the $3,200 NL High Roller. However, will future players look at that bracelet like many people look at FTOPS titles? A lot will depend on how many bracelet events are held online in the future. Also, how these players perform in the future will help to determine whether these will be looked at as luckbox bracelets or legit titles.
The Live WSOP is Likely Already Canceled
How much buzz have you heard about a potential fall WSOP? Not that much. In fact, I don't remember the last time I've head serious talk about the series. Some are speculating that the WSOP is just waiting until the end of the online series to announce that the fall series isn't happening.
Honestly, that's probably for the best. With spikes in new COVID-19 cases happening around the world, it doesn't make sense to hold a live WSOP in 2020. While that would be unfortunate, the smart play is to wait until next year when this pandemic will likely be over. Like I've said from the start, the WSOP Online series is not ideal, but it is better than nothing at all.
bottom corner