top corner
Greenstone25 Joins $10 M Club for Online Poker Tournament Earnings
109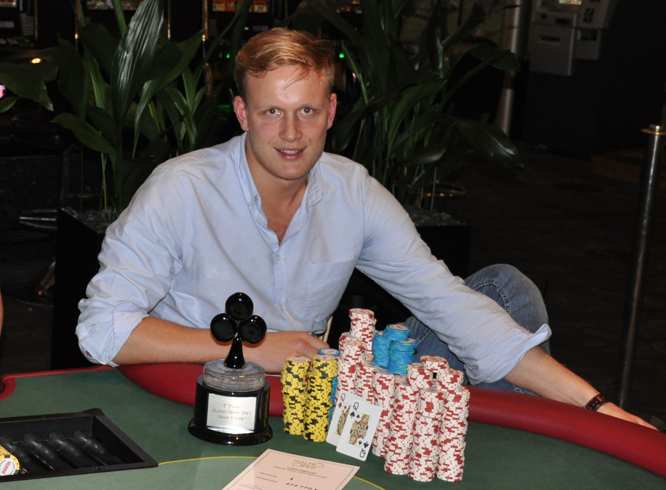 There's a new member of the $10 Million Club online. Less than three weeks after Chris "Big Huni" Hunichen became just the 5th player in online history to move past $10 million in online poker tournament earnings, a new member has been anointed into the club.
Johannes "Greenstone25" Korsar moved passed $10 million in career earnings this past Thursday and is just the 6th player ever to win more than $10 million in online poker tournaments.
Kosar Hits $10 Million Mark on PokerStars
According to stats provided through PocketFives.com, Greenstone25 moved past $10 million in earnings on October 26 during the $530 Bounty Builder High Roller $100k Gtd Event on Pokerstars. He finished 9th in the event to earn $1,860 and to move past the prestigious earnings milestone.
Korsar has enjoyed a remarkable run online since beginning play back in 2007. The Swede has posted huge numbers everywhere he's played. In addition to earning over $5.8 M on Pokerstars, he's won $1.35 M on the now defunct Full Tilt Poker and $1.18 M on partypoker.
Over the course of his career, he has cashed in 7,119 online poker tournaments with an average score of $1,406.36. He's won 204 events while finishing runner up 200 times and third 193 times.
Korsar's largest online career cash, and subsequently his only six-figure score, is a FCOOP victory from 2013 in the All-In for Africa Event. That score earned him $158,816. For his career, he's won $10,011,853.
Presently, Korsar is ranked 15th in the world and 1st among players from Stockholm Sweden. His highest world rank is 6th place, coming in 2016.
No New Members Soon for $10 M Club
Greenstone25's ascent to the $10 M Club was no shock as he's been in striking distance for a while. However, he will likely be the last inductee into the club for at least the next year or two unless certain players go on a hot streak.
The next two players likely to join the club are Chris "Gettin Daize" Oliver and Shyam "s_dot111" Srinivasan. Oliver presently has $9.67 million in earnings while Srinivasan has $9.5 million.
Online poker tournaments are more of a grind than live tournaments, meaning that both players will continue having to put in the volume or take down a major online poker event such as the WCOOP Main Event or similar.
Barring such a massive score, we likely won't see any new members to the $10 M club until late 2018 to Spring 2019, and we'd predict the later.
Chris Moorman Still All-Time Leader By Over $3.36 million.
Chris "moorman1" Moorman is still easily online poker's tournament money leader with $14.36 million. The next closest player to him is Nicolas "PokerKaiser" Fierro who has $3.63 million less than Moorman at $10.99 million.
The reason behind the massive descrepancy, besides the fact that Moorman simply dominates online, is that online poker lacks the massive regular paydays you see in live poker. There are few true high roller events and just as few massive events paying more than $250,000. Both occur on almost a weekly basis somewhere in the world in live poker.
As such, it is tougher for other players to make up ground on Moorman. The only way that anyone is going to catch or surpass him is for Moorman to either retire from the game or somehow forget how to play winning tournament poker.
At just 32, it's much more likely that he will retire long before he loses the ability to play online. The question now is just how much he will win online before finally hanging up his mouse.
bottom corner