top corner
Options for Funding Your WSOP Bankroll
1963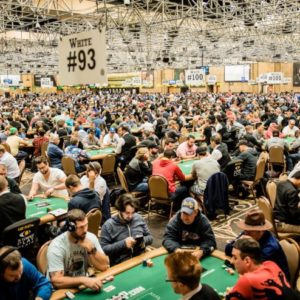 The 2020 World Series of Poker is just three months away and players are eagerly anticipating the event. While it is a dream for most players to play at the WSOP, it is not affordable for some amateur poker players.
If you would like to play at the WSOP, but don't have the bankroll to support it, consider some of these options for funding your WSOP bankroll.
Hold a Home Game Tournament
There are many home games around the country that will hold poker tournaments amongst their players for the World Series of Poker. This is generally done in a couple of ways. The first is to hold a standard tournament where the top prize is a buy-in to a WSOP event.
For example, if the prize is an entry into a $1,500 Event, ten players may put up $150 each. Twenty players could put up $75 each for a shot at a $1,500 Event.
The other way some home games put players into a WSOP event is through a season-long contest. Games that run weekly may withhold a portion of the prize pool to put a player into a WSOP event. If you have 20 players a week participate in a home game tournament, you can take out $5 out of each entry to go toward a season-ending WSOP entry.
The top points or money winner at the end of the season gets the WSOP entry. Of course, the more players you have, the better the prize or the more prizes you can offer.
Sell Pieces of Yourself
While not something I personally recommend, there are many players that sell pieces of themselves to make their WSOP buy-ins. You may sell 5 percent of yourself for a $100 stake from a friend. Percentages vary from person to person, so this is just an example.
If you plan to play in multiple WSOP events, you may choose to sell packages to friends or others interested in backing your WSOP adventure. Granted, this will result in fewer profits for you, but you still get to play at the largest poker series in the world.
Play Satellites at the World Series of Poker
This is one of the best ways to win your way into WSOP events. WSOP satellites start at $175 for $1,500 events and go up from there. You can win your way into the WSOP Main Event for as little as $550 in a Super Satellite.
WSOP satellites run live around the clock at the Rio all during the World Series of Poker. Better still, you can also find satellites for non-Hold'em games. However, most of those satellites run the day before or the day of the event being played.
Enter Satellites Online
WSOP.com will hold satellites for the World Series of Poker in New Jersey and Nevada. They may also hold them in Pennsylvania is WSOP.com launches before the series starts. These satellites are a mix of single-table and multi-table satellites.
Most of the satellites will be for the Main Event, but you will find some for preliminary events. They are available around the clock according to demand. If you can't access WSOP.com, other sites around the world will hold WSOP Main Event satellites, but they are not officially authorized partners of the World Series of Poker.
Grind Your Way in Cash Games
A common way that some players try and earn their WSOP buy-ins is through cash games. If you are a solid cash game player, you can put back some of your earnings to fund your WSOP buy-ins. You can also choose to play in cash games at the Rio to fund your events during the series.
The smart approach would be to put back part of your winnings regularly and save up a WSOP bankroll. That way you can focus on tournaments rather than worry about trying to grind your roll.
bottom corner