top corner
Esfandiari Getting 35 to 1 to Box – David Haye Looking to Slay Goliath
672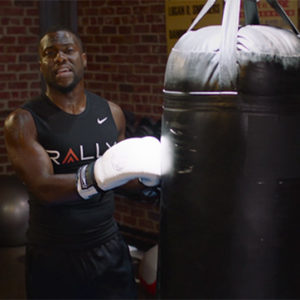 The world of pro boxing and pro poker have been colliding in the past week in some fun and interesting ways. First, pro Antonio Esfandiari has agreed to fight actor and comedian Kevin Hart sometime in early 2019. Meanwhile, recently retired British boxing champion David Haye has announced that he will try and make a run at poker and will be devoting a lot of time to study in his attempt to turn pro in poker.
Kevin Hart to Fight Antonio Esfandiari in 2019
Early last week, three-time WSOP bracelet winner Antonio Esfandiari told TMZ that he and actor/comedian Kevin Hart will box in a ring sometime around March 2019 for an undisclosed sum. What Esfandiari did reveal is that he will be getting 35 to 1 odds on his bet. The reason behind these odds is because Hart is in great shape and an athlete where Esfandiari is primarily just a poker player.
What could 35 to 1 odds win Esfandiari? Depends on his bet. Betting just $10k would earn him a cool $350,000 if he won the match. Odds are that he bet quite a bit more. A $100k bet could earn him an impressive $3.5 million. Of course, that's just a few buy-ins in some of the massive high rollers around the world.
Esfandiari will have quite the road to hoe against Hart. Despite having a height, reach, and weight advantage, Hart has speed, power, and some experience in the ring. Just check out the following clip from TMZ of Hart working out in the ring.
Hate to say it, but Esfandiari is going to need some serious help to take down Hart in March. At present, there's no word on whether this fight will be picked up and streamed by anyone, but this sounds like something perfect for PokerGo to jump on board with.
David Haye to Begin His Poker Journey
Former WBA Heavyweight Champion David Haye announced in a recent press conference that he will not begin studying to become a poker pro. According to reports, Haye will be teaming with a local casino to promote poker. He also says that he will begin a year-long study regimen that will prepare him to play in some small stakes poker tournaments.
According to the former Heavyweight Champ, he is "pretty poor" at poker and intends to study to improve his game. According to Haye, "In sport, if you're sometimes bigger and stronger than other people, that's enough to get you by, But I can't use my physicality to fast track me. It's not about how quick I am or my reflexes. It's about learning the bread and butter of poker correctly from the very beginning,
My biggest challenge is facing that, opening my arms and saying 'help me, give me as much knowledge as you can. I can't rush. Right now I don't know the rules of poker and that means I can learn the foundations from the best and move forward quickly. I'm such a novice so I have to focus on the fundamentals."
As part of his training for his first events, he will be studying with pros, Katie Swift, Jeff Kimber and Joe Beevers. After his training, he plans to play in the Goliath poker festival at Ricoh Arena in Coventry. Grosvenor Casinos has put out a promotional video about Haye's poker journey. Check it out below:
Haye is a former Cruiserweight and Heavyweight champion. He won the WBA heavyweight title in 2010 when he defeated Nikolai Valuev by majority decision. He then successfully defended the title twice against John Ruiz and Audley Harrison before losing a unanimous decision against Wladimir Klotschko in 2011.
Haye retired in May after consecutive TKO losses to Tony Bellew. Bellew is best known for his role as "Pretty" Ricky Conlan in the Rocky spinoff Creed. One thing about poker, even if he doesn't become a champion, the losses will not be as painful to take.
bottom corner