top corner
Doyle Brunson to Retire From Poker At Summer's End
533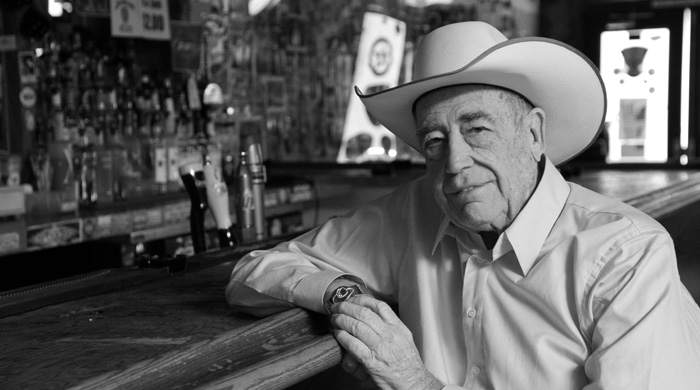 One person that a poker player will never beat is Father Time. At some point, each of us will fold for the last time. On Monday, one of the game's greatest players has officially announced that he is retiring from poker.
Doyle Brunson announced on Monday that he would be playing in the $10k NL 2-7 Lowball Championship at the 2018 World Series of Poker and that would likely be the last tournament he ever plays.
Going to the Rio to play in 2-7 lowball tournament. Probably the last one I'll ever play.

— Doyle Brunson (@TexDolly) June 11, 2018
However, it was later revealed that Brunson is not just leaving tournament poker, but he is retiring from poker as a whole.
Doyle to Spend Time With Ailing Wife
Poker Central broke the news on Monday that the "Godfather of Poker" is riding into the poker sunset at the end of the summer. He told Poker Central that "I'm planning on retiring after the summer. My wife is not in very good health, and I will stay with her for the duration of either her life or mine."
10-time @WSOP bracelet winner Doyle Brunson announces retirement from poker.
"It's the longevity in the game that I'm most proud of." – @TexDolly
Learn more: https://t.co/xAIDIg50YB pic.twitter.com/MAtE1qcasG

— Poker Central (@PokerCentral) June 11, 2018
Brunson further confirmed that he is not just leaving the World Series of Poker, but all poker. He said that he will "stop playing completely" after the summer and that each time he presently leaves his home, he feels guilty.
He also revealed that he doesn't play late anymore when he does play poker so that he can spend more time with his wife. He feels that "after 57 years of marriage I feel like [I] owe it to my wife to stay with her."
Brunson continued to reflect in the article on how he wished he cared more about the World Series of Poker. He said that the event was just a means to an end for bringing players out to Vegas and if he had cared more, he would have probably won more. Brunson is presently tied with Phil Ivey and Johnny Chan at 10 career bracelets, second on the All-Time Bracelets List.
When asked how he'd like to be remembered, he told Poker Central that his longevity was how he wished to be remembered. He played at high stakes for many years and that was what he was proudest of.
Doyle Retires as Greatest Legend of the Game
There's little that can be said about Doyle Brunson that hasn't been said. He won 10 WSOP bracelets, including two WSOP Main Event titles. He is also a World Poker Tour champion and has over $6.12 million in career earnings.
Texas Dolly was one of the original "Road Gamblers" who traveled around the United States looking for the largest cash games possible. He was also one of the players that christened the World Series of Poker back in 1970.
Doyle is also remembered for creating Super System, considered by many to be the Bible of poker. When poker started to become mainstream, Brunson became one of the games biggest ambassadors and has been on more poker TV shows than any other player in history. Brunson was inducted into the Poker Hall of Fame in 1988.
Poker Faces

Doyle Brunson (@TexDolly)

Poker Hall of Fame inductee
Holder of an incredible 10 WSOP bracelets! pic.twitter.com/ROmzd2b7AO

— Grosvenor Victoria (@GCVictoriaLDN) November 30, 2014
Brunson's last live tournament cash was back in 2013 when he finished in the money of 2013 World Series of Poker Main Event. He received a standing ovation for his deep run as he exited the tournament area.
There's no telling the amount of money that Brunson has won over the years in high stakes cash games, especially in Bobby's Room at the Bellagio in Las Vegas. Brunson admitted to Poker Central that he is still about 80 to 90% the player he's always been and at 84, he's still winning regularly in cash games.
Is this really the last time we will see Doyle at the tables? If history is any indicator, it probably isn't. If it is, we can only say thank you and "GG Doyle."
Photo Credit – DoyleBrunson.com
bottom corner