top corner
Dolly's Game to Premier on PokerGO on January 7
1017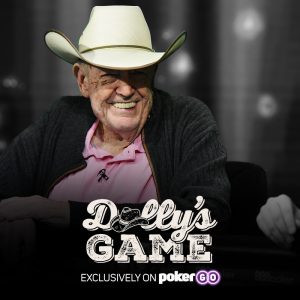 Doyle Brunson tried to run one helluva bluff last summer when he said he would be leaving poker after WSOP season. Of course, that bluff was short lived as he later modified his statement to say he was quitting tournaments.
Brunson continued to play in high stakes cash games and has even been featured a few times on PokerGO. The good news is that Doyle isn't going anywhere, and in fact, we will be seeing more of him in the future.
According to a press release on Thursday from Poker Central, PokerGO will debut "Dolly's Game," a regularly running high stakes cash game show that will prominently feature Texas Dolly and many of the games best high stake mixed game players.
Dolly's Game to Premier January 7
Poker Central announced the newest addition to their live poker lineup on Thursday. Dolly's Game will premier on January 7 on PokerGo and run from the PokerGO Studio at the ARIA Resort & Casino in Las Vegas.
The purpose of the series is to give poker fans a look at the high stakes games that Doyle Brunson has been playing for decades. According to the release, each session will be hosted by a famed poker player with a cast of high stakes pros.
Much like you will see in Bobby's Room at the Bellagio, these high stakes games will primarily feature mixed games. If you're an NL Hold'em enthusiast, this isn't going to be your speed, but fans of old-school poker games and more modern non-Hold'em variants should love the show.
Poker Central President Sam Simons spoke on the show, stating, "It truly is an honor to welcome Doyle as such a large part of the PokerGO platform. We're looking forward to hosting some of the highest stakes mixed games on earth for the fans to enjoy."
Doyle was also quoted in the presser, stating, "I can't think of a better home for 'Dolly's Game' than Las Vegas, and no better venue in Las Vegas than the PokerGO Studio. I've been playing this great game my entire life and I'm glad to continue the legacy and bring it to a new, wider audience."
Dolly's Game Will Be Must Watch TV for True Poker Fans
Personally, I am looking forward to this new program, something I often don't say about new poker shows. Normally, new programs are primarily NL Hold'em and after a while, Hold'em becomes a bit boring to watch. That's why poker shows focus so much on personalities over the actual poker.
Dolly's Game will give poker fans a chance to see other games played by some of the world's top pros. If you want to learn mixed games, this will be a great way to get some insight on how to play certain games or on how to upgrade your skills in the game.
Doyle Brunson needs no introduction in the poker world, he is one of only four men to have ever won ten WSOP bracelets and is one of only three men to win back-to-back WSOP Main Event tournaments. He's been playing poker around the world for six decades and is known worldwide as the "Godfather of Poker." Brunson has penned multiple books on poker with his most influential being Super System and Super System II. Both books are considered the "Bible of Poker."
If you aren't already watching PokerGO, this gives you another reason to watch it. PokerGO brings hundreds of hours of live poker content each year, including live streams of WSOP events, the Super High Roller Bowl, and Poker After Dark. At just $10 per month, you unlock a world of awesome poker content that will soon include Dolly's Game.
bottom corner