top corner
Daniel Negreanu Gets Engaged to Amanda Leatherman
1020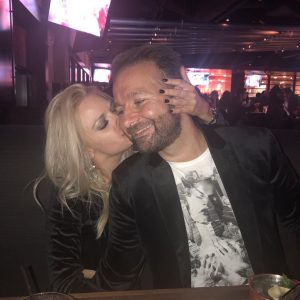 Daniel Negreanu is easily one of the most popular, if not the most popular figure in professional poker. When he speaks, people listen. When he makes a big play in a poker tournament, people watch. It's no surprise that his love life has been the subject of much scrutiny over the years.
Whenever he is attached to a particular lady, the poker world finds out and analyzes it to death. Over the summer, Negreanu ended a years-long relationship with Marisa Rodney and the speculation again began about whom he'd get together with next.
Enter Amanda Leatherman. She returned to the poker scene last year and became hostess of Friday Night Poker on Facebook Watch. Rumors began that the pair were back together and the two later confirmed that the two had rekindled their love affair.
Negreanu decided to take the relationship to the next level on New Year's Eve, proposing to Leatherman. She immediately accepted and now it appears that wedding bells are in Kid Poker's future.
A Fit Made in Poker Heaven?
Amanda Leatherman has been part of the poker community for a decade, dating back to her time as video presenter with PokerNews.com. She became popular for her on and off-screen persona and her and Negreanu famously hit it off away from the poker tables.
The two famously dated for a while but eventually split. Leatherman then left the poker world for a while, with one of the reasons being that the lifestyle (particularly partying) seemed to be too much for the popular hostess.
Last year, Leatherman returned to the poker world as one of the hosts of Friday Night Poker on Facebook Watch. Her return prompted some to speculate whether she might get back together with Negreanu. After all, he famously split from his long-time girlfriend over the summer and was available.
Fortunately for the pair, they did end up back together and confirmed this on a December 15th of the Poker Central podcast. Leatherman revealed during the podcast that she had moved in with Negreanu and even discussed whether the pair were working on a family together.
Negreanu admitted that he never knew what really being in love was until he got back together with Leatherman and it seemed that the two were a fit made in poker heaven.
Negreanu Pops the Question
On New Year's Eve, Negreanu went all-in on his relationship with Leatherman. He started out by playing the following video:
This is what happened afterward:

Of course, Leatherman said yes and now the pair is engaged. With it being so soon after the engagement, a date is yet to be announced, but you can rest assured that the poker world will make a big spectacle of the event.
As many of you already know, the poker life can be very difficult on marriages. Poker can be a tough lifestyle in general, and murder on a marriage. The couples that succeed are those that are both parts of the community, and even that isn't a guarantee.
However, in this case, things seem a bit different. Daniel Negreanu and Amanda Leatherman seem to be the perfect poker power couple. Negreanu is the poker pro while Leatherman is the poker hostess. Each has their own niche in the world and both are positioned in such a way that they can withstand the ups and downs of the game.
We wish the pair a very happy and successful marriage together. It will certainly be a wild ride, and the poker world will be tagging along and living vicariously through them.
bottom corner