top corner
COVID-19 Throws Monkey Wrench Into Main Event Finale
2755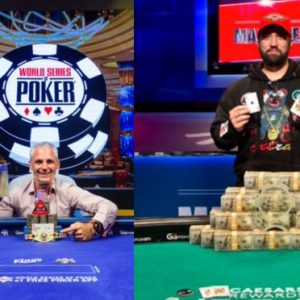 Remember last week when we said that the best-case scenario for the 2020 WSOP Main Event happened. Well, we spoke too soon. Just when it seemed it was smooth sailing for the event, reality reared its ugly head.
First, we had a bit of controversy at the final table when a player was disqualified for getting sick. Next, the finale for the Main Event was delayed due to travel restrictions. While the WSOP had contingencies in place, their plans to crown a 2020 WSOP World Champion fell a bit short.
Upeshka De Silva Gets DQ'd for Contracting Coronavirus
Prior to the start of the 2020 WSOP Main Event final table on Monday, the poker world found out that three-time WSOP bracelet winner Upeshka De Silva was disqualified after testing positive for COVID-19.
According to the report, De Silva had tested positive a few days prior, later tested negative, and then subsequently tested positive when the WSOP held their mandatory testing. The result was that De Silva was DQ'd and given ninth place prize money of $98,813.
Final Table starts tomorrow at NOON so had to get this story out tonight.

9th place is $98,000 and 1st is over $1,500,000@PadawanPesh also made a WPT FT earlier this year that's been delayed due to Corona. pic.twitter.com/XcLVTmCt35

— Joey Ingram #PASSION (@Joeingram1) December 28, 2020
This upset some in the poker community that felt that the WSOP should have made some concessions. The options presented were to delay the final table until De Silva no longer tested negative or move the final table online until De Silva busted. Ultimately, nothing was changed and De Silva's DQ stood.
The DQ, while allowed by the rules, seems a bit unnecessary. After what ended up happening with Damian Salas, there was enough time to allow De Silva some extra time to get well.
Damian Salas Denied Entry Into US – Finale Moved to Jan 3rd
Speaking of Damian Salas, he was denied entry into the United States on Saturday. The reason was that he didn't meet the mandatory 15-day wait period necessary when visiting Europe. Salas had only been there 13 days after going to the Czech Republic for the WSOP Main Event final.
World Series of Poker main event International final table winner, Damian Salas, was denied entry into the U.S. The development will push the final heads-up match of the event against Domestic champ Joseph Hebert back a few days to Jan. 3. https://t.co/ki0iD7ZMD0 pic.twitter.com/siWkqgEh2B

— Card Player: The Poker Authority (@CardPlayerMedia) December 29, 2020
The WSOP had foreseen such an occurrence. Instead of moving the event to another location, they merely bumped the date back to January 3rd. This will give Salas time to get into the United States.
Unfortunately, this kinda screws over Upeshka De Silva. The WSOP was willing to move things around for Salas, but not for De Silva. Granted, the move for De Silva would have impacted eight other players where the Salas move only impacts the winner of the American leg of the event.
Joseph Hebert Wins American Main Event Leg
Going into the final table of the domestic leg of the Main Event, Joseph Hebert had a dominating chip lead. You don't see a player with nearly a 3 to 1 chip lead over the rest of the field. Jamie Gold had a crushing chip lead back when he won it all in 2006. He was never really in any danger at that final table and the same was true for Hebert.
While we were hoping for some good stories at this final table, ultimately, it was Hebert crushing his way to a win. Gershon Distenfeld was first knocked out, so only part of his $125,885 score will go to charity.
Joseph Hebert wins the 2020 WSOP Main Event Domestic Tournament ($1,553.256) and will face Damian Salas Heads Up. Who will be the 2020 World Champion and win the Main Event bracelet plus the added $1M in prize money: Damian Salas or Joseph Hebert? Stay tuned for more to come! pic.twitter.com/wVLipjwRM5

— WSOP (@WSOP) December 29, 2020
Ron Jenkins had a lot of people rooting against him at the final table because he wore a pro-Trump MAGA hat. Some also feel that the way that heads-up went was fitting. Jenkins was all-in with pocket queens against A-Q. An ace hit the flop and ended heads-up play after a single hand.
Joseph Hebert will now face Damian Salas on January 3rd for the WSOP Main Event bracelet and $1 million. While the event is likely to happen, it effectively means that the 2020 World Champion of Poker will not be crowned until 2020. Ironically, that means that Stoyan Mandanzhiev is the only WSOP World Champion to be crowned in 2020. Good job WSOP.
bottom corner