top corner
Connecticut to Consider Online Gambling and Sports Betting Legislation
1057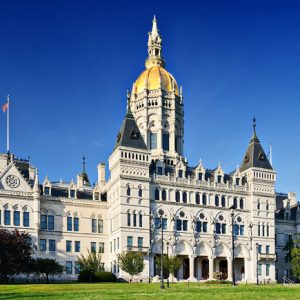 It appears that Connecticut will be the latest state to take a shot at online gambling legislation. According to various reports, Senate Bill 17 has been filed to attempt to regulate online gambling, internet keno, and sports betting.
It is unclear whether the bill has a legitimate shot of making it through the state legislature, especially considering the legal climate of online gambling due to the new opinion issued by the DOJ.
Bill Seeks to Regulated Online Gambling and Sports Betting
Senate Bill 17 has been filed and referred to the Committee on Public Safety and Security. In the bill, online gambling, sports betting, and internet keno. Under the bill, online gambling and sports betting would be available through Tribal casinos and other authorized entities like the Lottery and off-track betting parlors, while Internet Keno would be available online through the state lottery.
Online gambling and sports betting would be limited to those 21 and older while anyone 18 or older can play online Keno. At this time, the bill is simply a two-page filler filing, meaning that the bill still needs to be filled out in its entirety. This is similar to what we've seen in other states and may be done as a way to gauge whether the bill has a legitimate chance of moving forward in 2019.
There Are Numerous Hurdles That May Stall the Bill
Online gambling and sports betting in CT are not going to be a slam dunk issue. In fact, at this time there is a better chance that the bill will fail than moving forward. Firstly, the Mashantucket Pequot and Mohegan Tribes, owners of Foxwoods and Mohegan Sun, believe that they are the only ones authorized to offer sports betting and have threatened to take the state to court if sports betting is passed without their authorization.
Next, there are multiple casinos that are pressuring lawmakers to expand gambling to allow for commercial casinos. Both MGM and Caesars have put in bids to build a casino with MGM proposing a casino in Bridgeport. The tribes want to open a casino in East Windsor, and MGM has threatened legal action if this happens.
So what does this all mean? For now, it means that lawmakers need to hash out which entities can offer online gambling and sports betting or they need to work out a deal with the Tribes to gain their permission and move forward with legislation.
We Put Online Gambling Legislation at 60-40 Against in 2019
While we hate to be pessimistic about online gambling legislation anywhere in the country, there seem to be too many hurdles in the way for this bill to move forward expediently in 2019. More likely, we will probably see lawmakers work towards a compromise with all parties to ensure that online gambling isn't tied up in state courts after passage.
Also, we could definitely see the state drag its heels on this bill as the matter of the Federal Wire Act is resolved. If the recent opinion from the DOJ is upheld, then it will force Connecticut and anyone offering online gambling to take additional steps to ensure they don't violate the wire act. It is expected that the matter will go to court, but CT lawmakers may decide to wait and see the outcome before pushing the matter forward.
Regardless, we don't see online gambling coming to Connecticut this year. We put the odds at 60-40 against. Rather, we expect them to be one of the first to regulate sports betting and online gambling in 2020. As always, we will keep you updated on any changes if and when they occur.
bottom corner