top corner
Chris Fergusons Odds Go Up to Win WSOP POY as Players Skip WSOP Europe
Chris Fergusons Odds Go Up To Win Wsop Poy As Players Skip Wsop Europe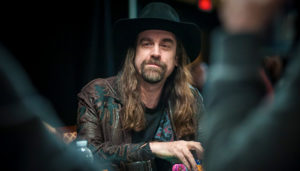 The 2017 World Series of Poker Europe kicks off on Thursday from the King's Casino Rozvadov. For three weeks, many of poker's elite will battle for the last 11 bracelets of the 2017 WSOP season.
Heading into the first even on Thursday, Chris Ferguson leads in the Player of the Year standings and the poker world will be watching to see whether "Jesus" can take down the POY title. On Wednesday, we found out that several players chasing Ferguson have decided against heading to Europe, making it likely that Ferguson will be able to take down the POY crown.
Several Contenders – Including 3rd Place Monnette Not Attending WSOP Europe
PokerNews reported on Tuesday that several players with a realistic shot at winning the WSOP Player of the Year title will not be attending the WSOP Europe. Among them are John Monnette, Ray Henson and Ben Yu. They are 3rd, 5th and 6th respectively on the POY leaderboard. Daniel Negreanu, currently 8th overall, is also skipping the WSOP Europe.
The reasons vary. Henson has perhaps the most noble reason as he's been busy helping friends following Hurricane Harvey. Monnette is skipping because the WSOP-E does not offer much variety unlike the WSOP in Vegas that offers every form of poker imaginable. Yu simply feels that it will take too much effort to win POY at this point and doesn't feel like going through the grind required to win.
Ferguson With 22 Point Lead Heading into WSOP Europe
Chris Ferguson presently holds a 22 point lead over Ryan Hughes heading into the WSOP Europe. The only other people with a reasonable shot to catch him are Alex Foxen and Dario Sammartino. Foxen is 144 points behind while Sammartino is 188 back. John Racener is presently fourth and just 45 points back, but he is recently married and it is looking likely he won't be attending.
If Ferguson continues his pattern from Vegas, he will probably play most events. Over the summer, he cashed 17 times with two final table appearances, including a runner-up finish in the $10k Stud Championship.
Events that favor Ferguson's skill set include the €550 PLO, the €2,200 PLO and most of the smaller buy-in events including the €550 Colossus. Based on past history, we likely won't see him play in the €25,550 High Roller or the €111,111 One Drop High Roller.
For leading after the Vegas WSOP, Ferguson received a seat into the WSOP Europe Main Event. Should he manage to win the POY title outright, he will get a seat into the 2018 WSOP Main Event in Las Vegas along with a 2017 Player of the Year banner to be displayed during subsequent WSOP events at the Rio in Las Vegas.
The Poker World Will Be Rooting Against Ferguson – Mostly
The topic of Ferguson winning Player of the Year has been a hot once since mid-June when it was clear he would contend. Now the poker world will be anti-railing Ferguson in hopes of some type of justice or "karma" for his involvement with the Full Tilt Poker debacle. For those that don't remember or are new to poker, Ferguson was the programmer who designed Full Tilt Poker and was one of the chief owners.
Ferguson was also the person who profited the most from Full Tilt, with some of those payments coming to him even after it was clear the company was not financially solvent. Ultimately, Ferguson forfeited millions in owner equity and earnings due him as part of the Black Friday settlement.
However, there are many in the poker world that feel that Ferguson has not received enough punishment. Some have called for a lifetime ban from poker. Chances are that his involvement will prevent him from ever getting into the Poker Hall of Fame but his mere prescience at live events is enough to start an uproar from fans.
Of course, there are those out there that want to see Ferguson do well because they still like him, believe that he did not have as big an involvement as some think or that he has already paid his penalty to society.
If anything, this story will help to add a bit more life to a WSOP series that desperately needs all the attention it can get. The move to the Kings Casino Rozvadov was done to help build the brand and whether good or bad, any type of publicity is likely welcome at the moment.
bottom corner