top corner
Black Friday – 10 Years Later And Not Much Has Changed
3006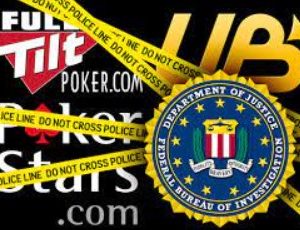 Today is an anniversary that the poker world hates to remember. On April 15, 2011, the United States Department of Justice indicted PokerStars, Full Tilt Poker, Absolute Poker, and various key executives, owners, and payment processors for violations of the UIGEA.
When the event happened, many thought it would be the catalyst for online poker legalization nationwide. On the 10th anniversary of Black Friday, we see that those hopes were overly optimistic.
The State of Legal Online Poker Post-Black Friday
Remember when Phil Hellmuth claimed that online poker would be legal nationwide within six months of Black Friday? Others with more realistic insights said that we would not see nationwide legal online poker until 2015. Personally, I upset quite a few people with claims that we would not see legal online poker nationwide before AT LEAST 2020, if ever.
Well, it is 2021 and there are only five states presently offering legal online poker. Nevada, New Jersey, Delaware, Michigan, and Pennsylvania are all operating at least one online poker site. The interstate online poker network presently consists of Nevada, New Jersey, and Delaware through WSOP.com. PokerStars in Michigan is expected to form a network soon with New Jersey, but that's as far as "interstate" online poker goes.
April 15th 2011: Black Friday in the Online Poker world

On that day, the US GOV stepped in & shutdown all online poker sites. I turned a $250 gift card to over $11,000 but lost it all@VeteransMinimum @bluewirepods

APPLE https://t.co/jk9RxfZsKK
SPOTIFY https://t.co/LEnfSVr7my pic.twitter.com/AH3R8wlyaU

— Nick Dais (@TheLambShow) April 2, 2021
Ten years and only five states have launched legal online poker. That's one site every two years on average. West Virginia has yet to launch online poker.
Furthermore, there's been little movement at the state level this year to legalize online poker. A bill in North Dakota was struck down and other iGaming measures including online poker have stalled.
Will We See a Second Black Friday?
A question I have asked since the first iteration of Black Friday is whether we will see the DOJ go after sites that are still offering online poker "illegally" in the United States. America's Cardroom, Ignition Poker, and BetOnline Poker are all examples of unregulated online poker sites that are continuing to operate in the US.
America's Cardroom is openly flaunting its site with regular additions to its group of ambassadors. You could almost say that they are the Full Tilt Poker of modern online poker, just without the squandering of player funds.
Exclusive preview of Ep #10 of #TheOrbit.

Episode is themed around the 10th anniversary of Black Friday in the poker world.

Full details on topics discussed by our panel: @blur5f6, @erichollreiser, @themouthmatusow @SteveRuddock.

Premieres Thursday!https://t.co/HKS6uKLFRG

— Robbie Strazynski (@cardplayerlife) April 13, 2021
Back before the first Black Friday, it always seemed that the sites serving the US were on borrowed time. To back this up, I drained most of my accounts about 6 months prior to Black Friday. I left about $100 or less on the sites I played at but took off thousands. It proved wise.
I recommend that those playing online poker on unregulated sites take off the bulk of your deposits because there's no guarantee we won't see Black Friday II. I'm posting this article early on April 15, 2021. It would be ironic if the DOJ was to drop new indictments on the 10-year anniversary of Black Friday.
Online Poker Will Never Be Legal Nationwide
By now, most of you probably realize this already, but the prospects of online poker being legalized nationwide are pretty much zero. There have been more bills to shut down online gambling (RAWA) than there have been for online poker legalization in the last 10 years.
We also already know that online gambling is a states issue. As such, we will have to take the slow burn to see online poker legalized in a large portion of the country. While online sports betting is exploding, online poker is barely crawling.
Looking forward to hearing the stories that will no doubt be told this week on the 10th anniversary of the poker industry's Black Friday.

My thoughts in particular go out to the ex-FTP staffer who agreed to sell his stake to Howard but didn't close the deal before 15th… pic.twitter.com/RIOL6xTfkA

— David Lyons (@kalooki) April 11, 2021
It has and will continue to be my assertion that we will never see more than half of the country embrace online poker and online casino gambling. Sports betting will give it a boost, but there are many states out there like Hawaii and Utah where it will never happen.
That's not to say it will be impossible. I never thought my home state of Virginia would ever legalize casino gambling or sports betting, but it happened. So there is a chance we will see more expansion than expected. However, it will never be nationwide.
bottom corner