top corner
Alternatives to Holding 2020 WSOP In May
2016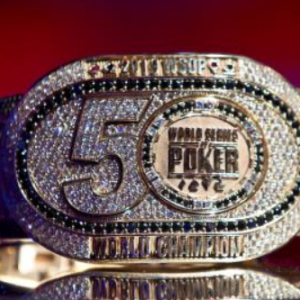 The Wuhan coronavirus continues to spread and has now hit every continent except Antarctica. Over 80,000 cases have been confirmed globally and some are claiming that the virus will hit pandemic proportions later this year.
As such, there are many that are worried about how this will impact major events such as the Olympics and the World Series of Poker. There is talk that the Olympics will be canceled this year, and some fear the same may happen for the 2020 WSOP.
Today, we present some possible scenarios or alternatives to holding the 2020 WSOP as scheduled.
Make All Events Online
One potential alternative to holding the 2020 WSOP in a live location is to hold all bracelet events online. There are presently 14 WSOP bracelets being held online with NL Hold'em and PL Omaha being the only alternatives.
To prevent potential exposure, all bracelet events could be converted to online events. If the technology will not allow for mixed game events, this year's series could just be an NL and Omaha affair. Players could play online bracelet events in Nevada and New Jersey. Pennsylvania could also host players if WSOP PA launches before May.
Things could be taken a step further with the WSOP setting up an international partner and holding WSOP bracelet events for international players. An option would be 888poker as they are a WSOP sponsor.
This is not an ideal solution by any means and probably more of a stopgap resort over canceling the series.
Hold Series as Normal But Take Extra Precautions
There is always the chance that the WSOP will continue as normal, but organizers will surely take additional precautions to protect players. Dealers and all staff members will likely be required to wear protective gloves and masks, especially if the number of coronavirus cases continues to rise.
Next, restrictions could be enacted to require that any player exhibiting illness symptoms be tested for the coronavirus. If they don't have it, they can come back to the WSOP. Otherwise, they can be treated and quarantined.
Regular testing will likely be required for staff and facilities for testing should be made readily available for players. A mobile lab on-site would be a nice touch for players concerned over exposure.
Move the Series to a Later Date
While the WSOP is always held in the summer, this is not an absolute requirement. The event could simply be moved to a later month of the year to allow for the coronavirus to run its course and be brought under control.
Moving the event to a September or October start time would be a way to help protect players and staff members from the virus. Even if the schedule has to be reworked or shortened, it would be an alternative to canceling the event outright. Yes, it will likely negatively impact the growth of the series for one year, but reduced growth is preferable over outright cancellation.
Cancel Until 2021
Ultimately, if the coronavirus becomes a pandemic, WSOP officials will probably have to make the difficult decision to cancel the 2020 World Series of Poker. While it would be a drastic step to take, it would ultimately prove the safest course of action for both players and staff.
We always claim that "the game will be there tomorrow." The same is true for the World Series of Poker. While canceling the series will have a major negative impact on the company financially, it may prove to be the most responsible move the company could make.
As a player, I would have more respect for a company that put its players safety over that of its profits. The WSOP can always return in 2021 and would be welcomed with open arms. While a decision has yet to be announced, the coming weeks could prove the most difficult in the history of the World Series of Poker.
bottom corner