top corner
Alex Foxen, Ben Lamb, and Ben Tollerene Win Events in the Last Week
562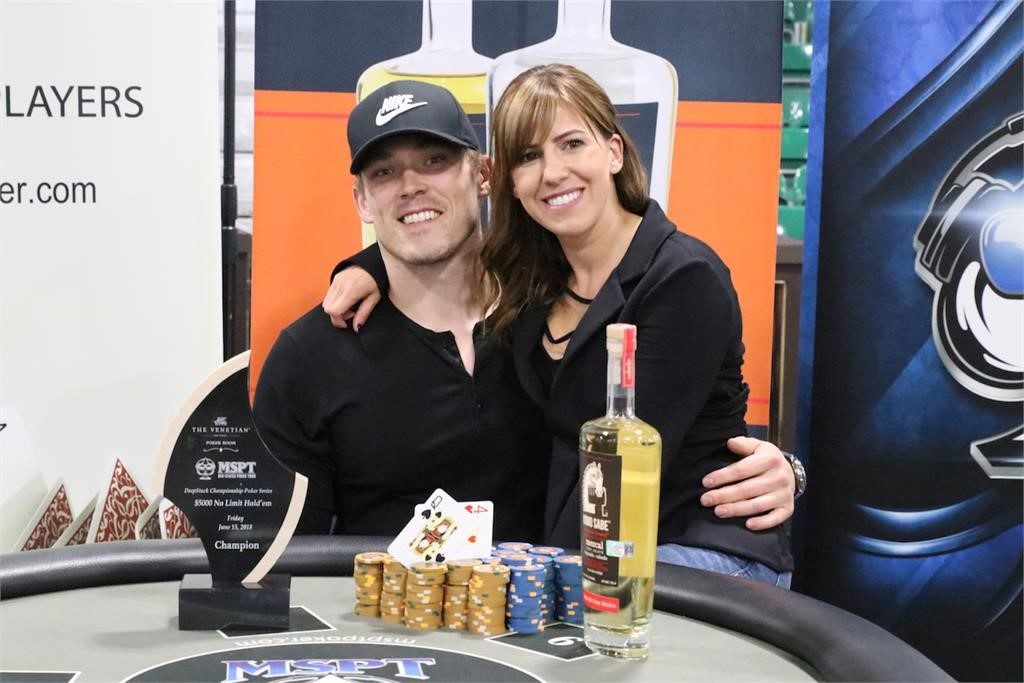 The 2018 World Series of Poker is not the only game in town in Las Vegas this summer. There are several casinos holding their own events. The Venetian and ARIA are two of the most popular venues with pros splitting their time between multiple venues and the World Series of Poker.
This results in many players scoring big wins that go largely unnoticed by much of the poker media. For example, Ben Lamb recently won a $10k PLO event at the Aria. On Monday, Alex Foxen took down the MSPT Venetian $5k and his girlfriend Kristen Bicknell finished second.
Meanwhile, Ben Tollerene took down a $25k High Roller at ARIA and Philip Sternheimer took down the $25k 8-Game High Roller at the ARIA.
Ben Lamb Chops $10k PLO With Sam Soverel
If you're a high stakes tournament player, you're probably going to be playing at the ARIA at some point during the summer. They are holding a variety of high roller events and several smaller events that draw strong field.
One such event is the $10k PL Omaha that ran on Tuesday. A field of 72 entries entered the event to create a $720k prize pool. Several big names made the final table including Sean Winter, Sam Soverel, Ben Lamb, Ryan Tosoc and Joao Simao.
In the end, it looks as if Lamb and Soverel chopped the event with Lamb coming out on top for the top prize of $166,500. Soverel took home $157,500.
Lamb obviously enjoyed the event:
By far the most fun tournament I've ever played in. Great format I really hope @ARIAPoker continues to run these! https://t.co/7DZIPj9rNQ

— Ben Lamb (@BenbaLamb) June 20, 2018
Ben Tollerene Wins $25k High Roller
ARIA is the home to the High Roller Series and Monday saw yet another $25k High Roller kick off. This one drew 23 entries and created a prize pool of $575k. Only four players made the final table.
Igor Kurganov finished fourth, earning $57k. Poker Central boss Cary Katz finished third, earning $92k.
Heads-up was between Sergio Espina and Ben Tollerene. In the end, it was Tollerene coming out on top for the win and $264,500. Espina earned $161k for second.
Philip Sternheimer Wins $25k 8-Game
Last Thursday, ARIA held a $25k 8-Game that was fairly well received. A field of 30 entries created a $750k prize pool.
The final table was a stacked one including Alex Kostritsyn, Isaac Haxton, Elior Sion, Philip Sternheimer and Luke Schwartz. Yes, you read that correctly. Luke Schwartz made an 8-Game final table. He finished fifth, earning $60k
Kostitsyn finished fourth for $75k while Isaac Haxton took home $120k. Sion and Sternheimer appeared to have chopped with Sion earning $220k and Sternheimer taking the victory and $275k.
Alex Foxen and Kristen Bicknell Finish 1-2 in Venetian Main Event
Alex Foxen and Kristen Bicknell have been having a stellar 2018 and that continued on Monday when the pair finished 1-2 in the $5k MSPT Venetian Main Event. The final table of the event included Jake Schindler and Phong Nguyen.
Kahle Burns made it to three-handed play with Foxen and Bicknell and the pair tried to discuss a chop with Burns on multiple occasions but he refused. Ultimately, Burns went down in third place, earning $120,000.
Once play was heads-up, the poker power couple chopped the prize pool with both players locking up $200k and playing for the final $39k. Foxen ended up winning the event, earning a combined $239k.
Had a tough heads up opponent, but I managed to get the W. Really fun experience. Good game to the beautiful @krissyb24poker #FTGB pic.twitter.com/WrU5ZL8jyp

— Alex Foxen (@WAFoxen) June 18, 2018
Bicknell told MSPT reporters, "He's run so good against me it's crazy. He has busted me in big spots in tournaments and now he's beat me heads up."
This isn't the first time the pair have finished well either in the same tournament or in the same series. Foxen explained, It's a running thing when we're in a tournament. We've had some strange circumstances in the past with tournaments where she'll win something and I'll do well too. At Bellagio, she won the $5K prelim and I finished second in the Main. In Macau, she won the high roller and I won the next tournament. There have been a lot of crazy coincidences."
Foxen has been having an awesome 2018, having earned over $2 million in live events. Bicknell isn't doing half bad herself, having earned $872k so far. Now it is time to see whether her boyfriend can run well at the World Series of Poker. Bicknell presently has two WSOP bracelets while Foxen has yet to win his first. He did finish 6th in the Super Turbo Bounty, and there is a lot of events left for him to try and join his girlfriend as a WSOP champion.
bottom corner