top corner
Absolute Poker Already Free After Mere Week in Jail
58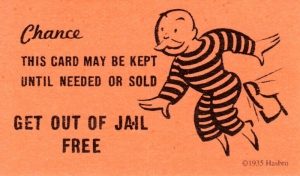 Anyone that was hoping for justice to be served to former Absolute Poker founder Scott Tom has been sorely disappointed with the recent "punishment" handed down by a US Magistrate. Despite having defrauded poker players worldwide out of millions, Tom not only received a proverbial slap on the wrist, but he has already returned home.
Tom Sentenced to a Week in Jail
Scott Tom returned to the United States back in February to answer charges stemming from the Black Friday online poker indictments of 2011. He had been facing as much as a $750,000 fine and 15 years in prison for his involvement in US facing online poker.
When he returned, he immediately posted a $500,000 bond and was released. Many correctly assumed that he would be striking a plea deal with authorities. In June, it was announced that Tom has plead guilty to a single misdemeanor charge of being an accessory after the fact to the transmission of wagering information. This charge carried up to a two-year jail term. He had also agreed to forfeit $300,000 as part of the deal.
When it came time to prosecute Scott on September 28, his lawyers tried to get him out on "tie served." However, US Magistrate Judge Barbara C. Moses didn't feel that Tom had actually served any jail time and thus decided a jail sentence was in order.
The sentence? Seven days in jail. No, that is not a typo. Furthermore, Tom is not subject to any type of probation or supervised release. Calvin Ayre has reported that Tom has already completed his "jail term" and returned to Antigua.
"Sentence" a Slap in the Face to Poker Community
Tom's sentencing was a complete slap in the face to the poker community that has suffered millions in losses from Tom's actions over the years. In addition to the collapse of Absolute Poker and UB, he is also implicated in the superuser scandal that rocked the online poker community.
Why did Tom receive such a slap on the wrist? The best answer is that he didn't have any reason to actually come back to the United States and face charges. Antigua does not have an expedition treaty with the United States and Tom could have stayed there for the rest of his life and never had to pay a dime. This may have been taken into consideration along with the fact that he is one of only two remaining defendants remaining on the original indictment.
The only person still "at-large" from the Black Friday indictments is PokerStars founder Isai Scheinberg. He is in a similar position where he doesn't have to worry about extradition but some feel he should come back and clear his name if for no other reason to receive some of the overdue accolades he deserves, such as induction into the Poker Hall of Fame. Until he resolves the matter, he will not be inducted.
This does bring the Absolute Poker chapter of Black Friday to a close as all defendants associated with the company have been prosecuted. In addition, the remaining funds from the Full Tilt Poker remission process are being used to pay back former AP and UB players. With the exception of Scheinberg, the Black Friday matter is closed. It serves as a painful reminder of why online poker in the United States needs to be regulated and what can happen when we put our faith in sites that skirt the law.
bottom corner