top corner
2019 WSOP Predictions Revisited
1471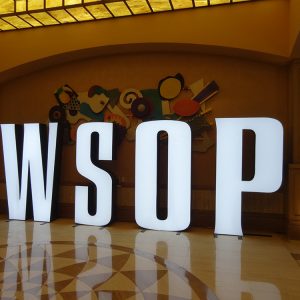 Heading into the 2019 WSOP, we made some predictions regarding stories to watch for the series. Today we take a quick look back at how those predictions played out and whether our crystal ball was on point or whether we should just stick to reporting the facts.
The Wire Act Has No Impact on Online Events
One big question was whether online poker players in New Jersey would be able to play in WSOP.com ONLINE bracelet events due to the pending Wire Act deadline. Fortunately, a federal judge ruled that the Wire Act still applies for sports betting and the DOJ has delayed enforcing their revised opinion until the end of the year while they pursue an appeal.
As such, WSOP.com bracelet events drew solid crowds with several big names being able to take down online bracelets. Brandon Adams and Shawn Buchanan were among ONLINE bracelet winners.
Stephen Chidwick, Brandon Adams, and Keith Tilston Among High Roller Winners
The 50th World Series of Poker gave multiple opportunities for high rolling pros to take down massive scores. Stephen Chidwick finally won his first WSOP bracelet after winning the $25k PLO High Roller. This earned him over $1.6 million.
Brandon Adams won the $3,200 WSOP.com ONLINE High Roller to earn his first WSOP bracelet and $411,560. Keith Tilston took down the $100k NL High Roller to win $2.7 million. However, the high roller with the biggest score was Dario Sammartino who finished runner-up in the 2019 WSOP Main Event, earning a hefty $6 million top prize.
Players such as Rainer Kempe, Jason Koon, Bryn Kenney were notable at times during the WSOP but were unable to take down a bracelet.
After Stephen Chidwick claimed his first, who do you think is the new "Best Player Without a Bracelet?" 🥇🤔⬇️ Tell us below! pic.twitter.com/ihw0OoZa5J

— Poker Central (@PokerCentral) June 24, 2019
Phil Ivey Played But Will He Come Back
One prediction we completely whiffed on was whether Phil Ivey would play. Not only did he play, but he managed to final table the $50k Poker Player's Championship. However, his legal battle with the Borgata may have caught up with him.
Spoiler: Phil Ivey is not going to win the 2019 Poker Players Championship. Here's how it happened: https://t.co/DhjDVwFAxH #WSOP50 pic.twitter.com/0mi1aROtLf

— Poker Central (@PokerCentral) June 28, 2019
It appears that the Borgata has tried to seize his winnings from the PPC and the WSOP in general, and this may have made a trip to the WSOP a waste of time. We will make an early prediction for next year and predict we will not see Ivey at the 2020 WSOP unless he resolves his legal situation with the Borgata.
Hellmuth Misses Out on #16
We completely nailed our prediction on Phil Hellmuth for 2019. We said he would make one or two final tables but fail to win gold at the 50th World Series of Poker. His first cash of the summer was a 5th place finish in the $400 WSOP.com ONLINE NL Hold'em Event and his last cash of the summer was a sixth-place finish in the series-closing $5k NL Hold'em Event.
Hellmuth managed to cash 12 times this summer, but most were glorified min-cashes. His finish in the $5k NL may have brought him close to breaking even for the series considering he doesn't play too many high rollers.
Negreanu Performed Better Than Expected
I predicted in May that Daniel Negreanu would have a mediocre WSOP, likely cashing a ton of times but not accomplishing much. For this prediction, I will say I was half right. Negreanu failed to win his seventh career WSOP bracelet and did have a ton of glorified min-cashes. However, he did make four final tables and had two runner-up finishes.
Negreanu's two near misses came in the $10k Stud Championship and in the $100k High Roller Event. Negreanu made $1.72 million. The score in the $100k High Roller turned around what was a losing summer for Daniel. He went from being down over $400k for the summer to win $1.28 million.
Negreanu's summer performances were enough to earn him third place in the 2019 WSOP Player of the Year rankings. He is 252.54 points behind Robert Campbell for the lead and is hinting that he will go to the WSOP Europe to try and win Player of the Year.
We give Negreanu credit for turning things around. That one high roller turned a mediocre summer, and a losing one, into a net positive. You've got to love poker.
Daniel Negreanu came through for many of his World Series of Poker investors.https://t.co/249ZPMmItg

— PocketFives (@PocketFives) July 23, 2019
2019 WSOP Main Event the Second Largest in History
This is one prediction we will take 3/4 credit on only because of how far we underestimated the total field. We did predict that this year's event would have the second-largest field in history. However, we were quite a bit off on the total.
We predicted the field to grow to around 8,050 players. The actual field was 8,569. For a while, it seemed the field would eclipse the 2006 field of 8,773, but it fell just short.
So what was the big difference between our prediction and the final numbers? To be honest, we forgot to consider Day 2 registration. We somehow missed that players could register until the start of Day 2. With two Day 2 starts, this added about 444 players to the field. Without those extra players, the field would have been closer to 8,125. That's why we are taking 3/4 credit on this prediction.
So overall, it's safe to say that we can continue using our crystal ball to predict WSOP outcomes in the future. The 50th WSOP was a fantastic event, crowning 90 poker champions. Now it's time to start looking forward to the 2019 World Series of Poker Europe.
bottom corner