top corner
2018 WSOP Main Event Second Largest in History
599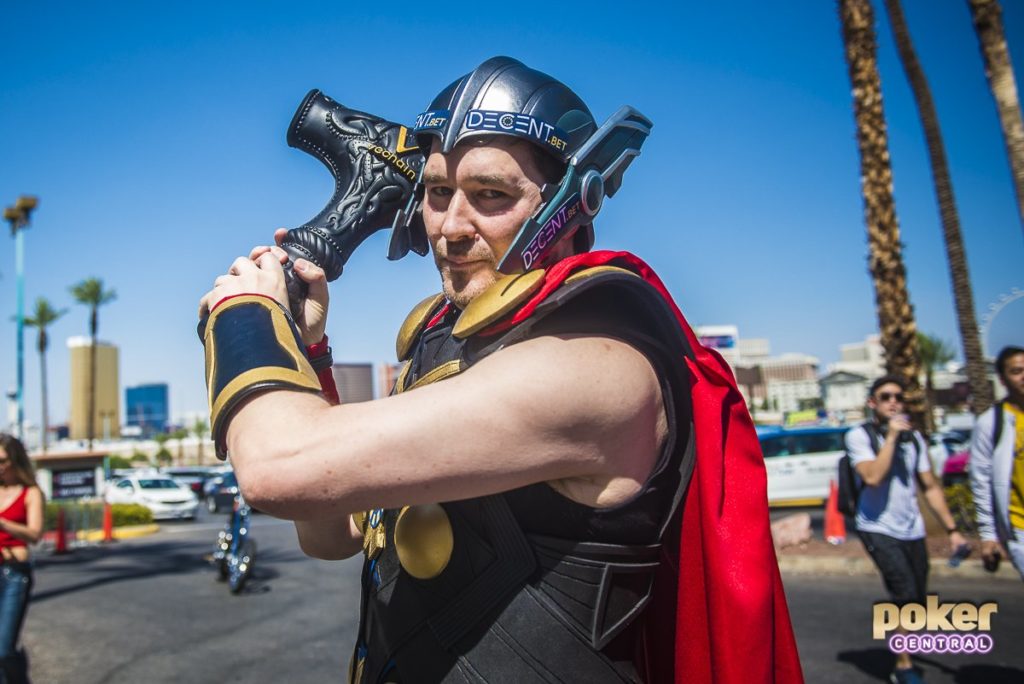 The 2018 World Series of Poker Main Event just wrapped up its final Day 1 starting flight and the event drew the second largest crowd in Main Event history. After three Day 1 starting flights, the Main Event drew 7,874 players, the second largest field in WSOP history.
Ten prior Main Event champions advanced to Day 2 action. Among them is Phil Hellmuth who made one of this famous grand entrances as a Marvel Super Hero, but not the one we wanted to see.
2018 Field Grows by 653
After registration closed on Day 1c Wednesday, WSOP officials announced that a total of 7,874 players entered the 2018 WSOP Main Event, an increase of 653 players year over year. Day 1a drew 925 players while Day 1b drew 2,378.
Main Event final numbers:

Players: 7,874 (2nd largest in WSOP Main Event history)

Day 1C players: 4,571

Prize pool: $74,015,600

Payouts later tonight after verifying the numbers

— WSOP (@WSOP) July 5, 2018
Day 1c brought in the largest single starting flight of any Main Event in history with a field of 4,571 players all coming to the Rio on July 4th. This resulted in the second largest Main Event in history. Only the 2006 Main Event drew more with 8,773 players hitting the felt.
Once the final numbers were tallied, this year's Main Event created a prize pool of $74 million, also the second largest Main Event prize pool in history. This is also the only other Main Event ever to crack $70 million in total prize pool.
The final nine players will be millionaires. Ninth pays $1 million while first will receive $8.8 million in prize money.
Main Event payouts

1st: $8,800,000
2nd: $5,000,000
3rd: $3,750,000
4th: $2,825,000
5th: $2,150,000
6th: $1,800,000
7th: $1,500,000
8th: $1,250,000
9th: $1,000,000

1,182nd: $15,000https://t.co/zt6l3nvgvg

— WSOP (@WSOP) July 5, 2018
Blumstein Busts Day 1a
Day 1a is always the slowest day of the Main Event and this year was no exception. Day 1a only drew 925 players with the biggest name in the field last year's champion Scott Blumstein. Unfortunately, the defending champion will not repeat and didn't even survive the first day. He ended up busting in Level 3 when his pocket tens were cracked by a rivered flush by Brian Yoon.
Shows you how over rated poker is today when the WSOP champ of last year @SBlum2711 is capable of donking off all his chips early in day 1 of the main event today with pocket 10's. Just horrible poker. https://t.co/8DR19MSFpy

— The Vegas Take (@TheVegasTake) July 3, 2018
By the end of Day 1a action, just 659 players advanced with Timothy Lau leading all players. Three prior Main Event winners managed to advance. Joe McKeehen advanced with only 36k while both Scotty Nguyen and Joe Hachem advanced with 84k stacks.
Alex Foxen Among Day 1b Leaders
Day 1b drew a much larger field of 2,378 players with 1,794 players advancing. John Hesp, the darling of last year's Main Event, played on Day 1b and managed to advance with 63,900. Three more prior Main Event champions also advanced.
Greg Merson only managed a net gain of 5,000 chips and advanced with 55k. Ryan Riess had a better day and finished with 93k. However, it was two-time champion Johnny Chan who made the most noise by finishing the day with a stack of 151k.
Alex Foxen is looking to continue his hot streak in 2018 with a Main Event deep run. He finished fifth in chips on Day 1b. Smain Mamouni finished Day 1b as chip leader.
🚨 LATEST – Alex Foxen Among Big Stacks After Day 1b of the 2018 WSOP Main Event https://t.co/Ocsb7y1DWo pic.twitter.com/8VryWLXXJv

— The Poker Wire (@thePokerWire) July 4, 2018
Hellmuth Arrives on Day 1c
The big mystery leading up to the Main Event was which outfit that Phil Hellmuth would wear on Day 1c. He announced that he would be coming as either Iron Man or Thor.
Most were hoping that Hellmuth would come as Iron Man, but alas, he chose Thor. On Day 1c, Hellmuth made one of his famous grand entrances dressed as Thor and escorted by 14 models dressed as Wonder Woman. Yes, a Marvel hero was being escorted by DC heroines. Only at the World Series of Poker.
.@phil_hellmuth entered the Main Event as a Marvel Character surrounded by 14 DC Universe models. pic.twitter.com/pTf0C61nlj

— PokerNews (@PokerNews) July 5, 2018
In addition to Hellmuth, two of poker's biggest names took to the felt on Day 1c. Daniel Negreanu and Phil Ivey both battled on Day 1c and each had their own featured table. Unfortunately, Negreanu didn't have a great day at the featured table and his final hand highlighted that fact. He was all-in with pocket jacks but ended up losing to pocket tens when a ten hit the flop.
Both Phils managed to advance to Day 2. Ivey finished with about 93k while Hellmuth finished with 63k. By the end of the day, Samuel Touil finished as chip leader. A few big names near the top of the leaderboard after Day 1c include Anthony Reategui, Loni Harwood, and Patrik Antonius.
Besides Hellmuth, three other prior Main Event champions advanced. Joe Cada and Jonathan Duhamel advanced with less than 20k while Martin Jacobson finished with 38k.
Bring On Day 2!
Day 2 action begins on Thursday with Day 1a and Day 1b combining to play Day 2a. Day 1c players will return on Friday to play Day 2b. The field then combines on Saturday and will continue to play daily through the end of the event next Saturday.
There's still a lot of poker left to be played before we even reach the money bubble as the bubble is expected to bust sometime late on Saturday during Day 3 play.
Photo Courtesy – Poker Central
bottom corner