top corner
Why You Should Play WSOP Circuit Events
1139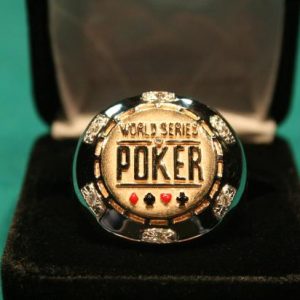 The World Series of Poker Circuit is considered one of the "minor leagues" of poker with stops held all over the United States and in several key areas internationally. Most events award at least 10 circuit rings and the general theme of the Circuit is "First the Ring, Then the Bracelet."
If you have never played a World Series of Poker Circuit Event, it is something that you should consider, especially if you have never played in a live tournament series before. Below are several reasons I recommend playing at WSOP Circuit Events.
The Buy-Ins Are a Lot Cheaper Than WSOP Vegas or WSOP Europe
The WSOP Circuit is the affordable option for those wanting to play in major poker events with large prize pools. Ring events start at $400 and go up to $1,700 for the Main Event. There are the occasional $250 events or "High Rollers" around $2,500, but most events fall in the $400 range.
With lower buy-ins, you also have cheaper satellites for events. The average WSOP circuit satellite is about $50. Of course, the larger the buy-in of the event, the larger the buy-in for the satellite, but you're still saving a lot of money overall.
The Competition is Lot Softer
Since you're playing at the Circuit level, you do not have as many of the top pros playing in events. You might have a few bigger names in the Main Events or the occasional High Roller event, but you aren't going to see many big names in the $400 events. Certainly, there are exceptions, especially at some of the larger stops such as Los Angeles, but I don't see Mike Leah or other top players traveling to Tunica, MS to play in a Circuit series.
A lot of your opponents are either local players or amateurs that are trying to step up to another level. This makes it easier for those starting out as they have a better shot at winning or at least performing well.
Circuit Events Are Much Closer to Your
Regardless of where you live in the United States, you probably have a WSOP Circuit stop within a few hours drive. You can't say the same for the WSOP in Las Vegas or the WSOP Europe. Personally, I live in an area where I can get to about 6 WSOP Circuit stops within no more than a day's drive.
There were 28 U.S. Circuit stops in 2019 and an online circuit stop, making it easy for you to find a low-cost alternative to Las Vegas.
Prepare for the Next Level
The WSOP has always touted the Circuit as being the testing ground for players wanting to play at the World Series of Poker. There are many players that have played at the Circuit and then moved on to win WSOP bracelets.
I cannot claim to be one of those, but I can claim to have cashed in my first ever WSOP event in Las Vegas the same year I played in my first Circuit event. The WSOP Circuit in Tunica was my first ever live poker series and while I didn't do well in the tournaments, I made a good chunk of money in Satellites and took that money and played at the World Series of Poker. I proceeded to make the money in my first-ever WSOP event. It wasn't a monster cash, but it proved to me I could hang at the top levels of poker.
Also, keep in mind that if you win a WSOP Circuit Main Event, Casino Championship, or earn enough points during the season, you get a free entry into the WSOP Global Championship. That event awards a WSOP bracelet to the winner. So it is possible to work your way up and win a WSOP bracelet without even going to Las Vegas.
The WSOP Circuit is a great way to get your feet wet at the next level and test your skills against better competition. Best of all, you can do it without taking time off from work, traveling halfway across the country, or busting your bankroll.
bottom corner