top corner
UK Regulator Suggests Online Casinos Abandon Wagering Requirements
156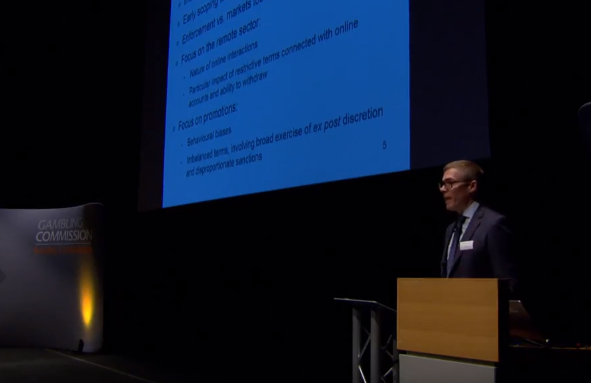 Earlier this week, the UK Gambling Commission held its second annual "Raising Standards" conference in which industry leaders and experts discuss ways to make online gambling fairer and safer for consumers.
One speaker that drew particular attention is George Lusty, Project Director for the UK's Competition and Markets Authority. As one of the people who has the authority to uphold gambling protection laws in the UK, his words were particularly poignant as he spoke out against online casino policies that could be determined as anti-protection.
Do Wagering Restrictions Violate Consumer Protection Regulations
A common practice by many online casinos is enacting some type of wagering restrictions on bonuses. For example, if you receive bonus money of $100, you must wager it 30 times in order to cash it out. That's $3,000 in total wagers.
Most players are not able to win enough to clear this. Furthermore, if you try and cash out while in the middle of clearing a bonus, you forfeit the rest of that bonus.
Many players think that this type of wagering restriction is unfair and Lusty agrees. In addition, Lusty claims that such restrictions actually violate consumer protection regulations. Part of his argument is that forcing a player to continue gambling for an extended period may lead to problem gambling by some.
One does have to wonder whether forcing someone to sit at a computer and continually pump money into an online slot or video poker machine will lead to some type of addiction. If you play for $1 a spin, you'd have to play 3,000 games in order to clear the aforementioned bonus example.
That's an insane amount of play. It is easy to see how some people, especially those with borderline addictive personalities could develop gambling problems.
Lusty recommends that online casino scrap wagering requirements. Instead, he says that casinos should spell out which funds are restricted and unrestricted and give players a choice on how to play those funds.
Do Gamblers Really Understand What's Going On?
According to Lusty, online casinos and poker rooms are failing to adequately educate gamblers about terms and conditions related to bonus offers. With gamblers not really understanding what they are getting into when signing up, he believes that online casinos do not have a legal justification for these bonus offers.
Lusty makes a great point. As one that has written extensively about online poker rooms and online casinos in the past, I am very surprised at some of the deep fine print that you see in some of these bonus offers. Many times, a player may be completely ineligible for an offer from the moment they sign up or they invalidate their offers because they violated a term that is on page 10, paragraph 2, sentence 4 of General Terms and Conditions which are actually separate from the Terms and Conditions listed for the bonus?
Did that little example thoroughly confuse you? If so, you can understand what Lusty meant by casinos needing to be more transparent about what gamblers are getting into. As he suggested, online casinos need to abandon the restrictive nature of online bonuses and go to a simpler system where players have more choice and fully understand the terms of any offer they get into.
Sadly, it will likely take an industry regulator like the UKGC to step forward and start instituting penalties and revoking licenses before online casinos start making changes. In the end, many online casinos and poker rooms are going to do what they can to improve their profit margin while skirting the lines of what is legal and what is right for players.
bottom corner