top corner
Three More Poker Variants You Should Learn Besides NL Texas Hold'em
1473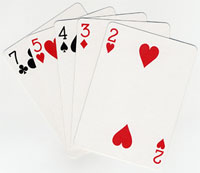 Poker is constantly evolving, and if you cannot evolve with the changing environment, you will eventually be left behind. While it is possible to have a long career playing NL Hold'em, it is not the only game out there.
Last year, we wrote an article about three poker variants you should learn in addition to NL Hold'em. Since then, preferences have changed and there are three games that have continued to increase in popularity. Today we will take a look at three more poker variants you should learn in addition to NL Texas Hold'em.
Big O
A popular variant of Pot Limit Omaha that's been increasing in popularity over the last couple of years is Big O. The game is essentially five-card Omaha Hi-Lo Split. In many hands, half of the pot goes to the high hand and the other half goes to the low. If a player happens to have both high and low, they scoop the pot.
Big O trumps standard Omaha and Omaha Hi-Lo games as the fifth cards give many more opportunities for players. The game is a big action game and the PL nature can create some insane pots. Hand selection is vital in this game but you have more opportunities for scooper hands.
For standard Omaha Hi-Lo, you are looking for hands with big scoop potential from the low end where in this game, the fifth card allows for big two way hands that are not overly dependent on having three low cards. Hands like A-2-4-K-Q double suited are monster starting hands and will generate much more action.
The downside to this action game is that it can be much swingier than even PLO. It has yet to get its own bracelet event at the World Series of Poker but is a part of the Big Bet bracelet event. If you love action games, this is one to consider.
NL 2-7 Single Draw
A game that has been gaining more of a following in the last five years is NL 2-7 Single Draw. The game is 2-7 Lowball, but instead of three draws and limit betting, you get a single draw and NL betting.
Jim Bechtel called NL 2-7 Single Draw one of the purest forms of poker remaining because it allows for a ton of opportunities to bluff. That's one reason you see many players coming over to the game. It allows the NL betting action of Hold'em along with the bluff element that many players like to take advantage of.
If 2-7 Triple Draw is too tedious for you, then this will be a welcome change. It is also a great big bet alternative to NL Hold'em.
Short Deck NL Hold'em
If you've followed poker at all over the last year, the inclusion of this game on this list shouldn't come as a shock. Short Deck NL Hold'em has become all the rage in the high stakes world and is slowly making waves at lower stakes.
Short Deck Hold'em is essentially Texas Hold'em with the twos, threes, fours, and fives removed. Aces play both high and low. How do they play low? A low straight in this game is A-6-7-8-9.
Also, due to the stripped deck nature, hand rankings are a bit different. A straight ranks under three of a king and a flush is higher than a full house. This is because it is much easier to make a straight in this game, but a flush is much more difficult due to the reduced number of outs.
Short Deck Hold'em will continue to be primarily offered at high limits but some online casinos like PokerStars are beginning to offer lower stakes. Select live casinos are offering lower-stakes tournaments as well. Over the next two to five years, expect Short Deck Hold'em to grow in popularity, especially those who want more action out of their Texas Hold'em games.
bottom corner