top corner
Stephen Chidwick and Jordan Cristos Win First Two Events of 2019 US Poker Open
1085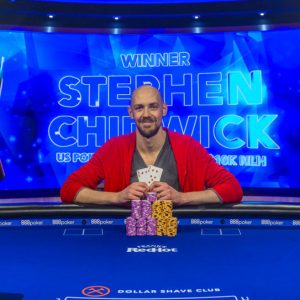 The second running of the United States Poker Open kicked off on Thursday and two events played to a conclusion through Friday. On Thursday, Stephen Chidwick began his defense of his USPO Championship in the best way possible by winning his third USPO title. He took down Event #1 for his third career USPO event win along with $216,000.
On Friday, Jordan Cristos took his first USPO title after winning the $10k PLO event along with $179,200. He also managed to cash in Event #1, which gives him the overall points lead heading into Saturday.
Stephen Chidwick Wins Event #1 for Third USPO Title
Event #1 of the US Poker Open was a $10k NL Hold'em Event that drew a field of 90 entries and a prize pool of $900,000. Over the course of Day 1, action played to the final table with 14 players making the money. Some of the players that cashed but fell short of the final table included Poker Hall of Famer Erik Seidel (13th), Jordan Cristos (11th), Bryn Kenney (10th) and Jake Schindler (9th).
Among those making the final table were Sean Winter, Joseph Cheong, and Stephen Chidwick. Chidwick won two events in the inaugural USPO in 2018 and was looking to win his third title in this event.
Cheong came into the final table with a solid chip lead over the field but that did not guarantee a run for the title as he ultimately fell in third place to Stephen Chidwick. Afterward, it was Chidwick with almost a 2:1 chip lead heading into heads-up play.
Heads-up play didn't last long as Winter ran into a bit of a cooler with pocket eights. At the turn, the board was Ks-9s-6c-8s and Winter bet 375k. Chidwick moved all-in and Winter called with his set. Unfortunately, Chidwick had been sticking around with a lowly 7-5 and binked a straight. The river failed to pair the board and Winter was eliminated in second place, good for $157,500.
Stephen Chidwick won his third career USPO title along with $216,000 in prize money. On the win, he told Poker Central, "I kept running as I did last year, this is my favorite place to play in the world by far, and I came in focused and ready to play my best."
He also commented about the likelihood of his going back-to-back and defending his USPO title. He told Poker Central, "It would be amazing to go back-to-back but that's a long way away and there's lots of poker left to be played. I'm not going to get ahead of myself and just try to play my best."
Jordan Cristos Wins Event #2 to Take Points Lead
Event #2 of the 2019 USPO was a $10k PLO event. This event drew a field of 64 entries and the final table for this one was another stacked affair. Sean Winter made his second straight final table and joining him were Cary Katz, Martin Zamani, Manig Loeser, Jordan Cristos, and Adam Hendrix.
Winter could only manage a 6th place finish in this one, adding another $38k to his bankroll. Poker Central creator Cary Katz finished in fifth for $51,200. Ultimately, it was Manig Loeser against Jordan Cristos heads-up for the title.
Action went back and forth heads-up with both players holding the chip lead multiple times. Ultimately, Cristos had to get lucky to take the title. On a flop of Qc-7c-5d, Loeser check-raised all-in with Qd-7d-10c-4c and was called by Cristos holding Kc-9s-6h-5c. Loeser was in the lead with two pair, but the turn brought the Ks and Cristos took the lead. The river 8s gave Cristos a straight and his first USPO title.
In addition to winning $179,200 for first place, he also took the overall points lead. Of the win, he told Poker Central, "It's cool. It's sweet. The structure was turbo-ish and I feel like I didn't out-skill anyone here. There were 50 people in the field and I was probably the 44th best player, honestly. It feels good to come out on top though. I don't think I made many mistakes but I can't really gauge whether or not I did because I'm no PLO expert, but I won so that's good."
The USPO continues with Event #3 playing to completion on Saturday. This series features 10 events in total.
bottom corner