top corner
Steffen Sontheimer Wins Poker Masters Main Event – Claims Purple Jacket
16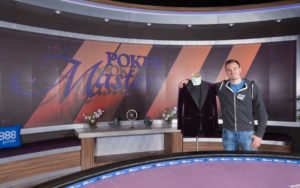 Heading into the Poker Masters Main Event on Monday, Steffen Sontheimer was in the driver's seat to win the Purple Jacket as the event's best player. However, as the event unfolded it became clear that he would need to make the final table to have a shot to hold onto his lead.
Sontheimer not only made the final table but ultimately took down the Poker Masters Main Event for his second win of the series, $1.5 million in prize money and the Purple Jacket.
Main Event Draws Solid Field
The Poker Masters Main Event kicked off on Monday and drew a solid field of 36 players. Unlike the other events of the series, the Main Event has a buy-in of $100,000 and was played as a freezeout.
Day 1 played down to just 15 players and Brian Rast and Daniel Negreanu finished atop the leaderboard. Unfortunately, neither player were able to make the final table.
Due to the field size, this event only paid six players. Day 2 played down to the final six and it was Fedor Holz that took the chip lead into the final table. This was Holz's second final table of the series. He finished 2nd in Event #2 and was looking to win this event.
Steffen Sontheimer came into the final table 2nd in chips. Sontheimer was simply dominant during the Poker Masters. He made the final table in 4 of the 5 events and took down Event #2.
Christian Christner, Stefen Schillhabel, Seth Davies and Justin Bonomo rounded out the final table.
Due to the fact both Holz and Schillhabel made the final table, Sontheimer would have to finish in 2nd place to lock up the Poker Masters Purple Jacket.
Sontheimer Pulls Off Comeback Victory to Take Poker Masters Main Event
Many six-handed final tables end up being rapid-fire events until around heads-up due to the format of six-handed play. That wasn't the case on Wednesday as it took five hours before the first player was eliminated.
Stefen Schillhabel was the first knocked out. His A-3 was outdrawn by the K-J of Justin Bonomo.
Bonomo was knocked out shortly thereafter when his K-10 was no good against Christian Christner's A-K.
Seth Davies was out in 4th place when his A-7 was unable to hold against Christner's K-7. A king on the flop sent Davies to the rail for a $324,000 payday.
Fedor Holz was looking to take his first Poker Masters title and the Purple Jacket but had to settle or 3rd place. He shoved the last of his chips with Q-J but couldn't catch against the pocket sevens of Christner. Holz did earn $504,000 to give him $1 million in total earnings for the series.
Heading into heads-up play, Christian Christner held a 2:1 chip advantage over Steffen Sontheimer. Sontheimer had already locked up the Poker Masters Purple Jacket by making second and some would be satisfied with that accomplishment.
Sontheimer wasn't about to give up on the title. The turning point was a crazy hand with Christner raising from the button with 7h-3h and Sontheimer calling with 10d-9c.
Sontheimer check-called a bet from Christner on a flop of Ah-Js-8s. The turn gave Sontheimer the nuts when the 7s fell.
Action checked around and the worst possible card for Christner hit the river. The river was the 7s and Sontheimer checked a third time. Christner bet 320k, followed by a check-raise by Sontheimer to 1.5 million.
Christner had to think a while and used a time extension to do so. He ultimately called and discovered the bad news. Sontheimer's straight catapulted him into the chip lead and shifted the momentum into his favor.
After the monster confrontation Christner was unable to get any momentum. He got super short multiple times and each time he was able to find a double-up. However, he never could get close enough to Sontheimer to make a run at the title again.
Ultimately, Christner found pocket deuces and shoved for his last 1.89 million. Sontheimer insta-called with pocket queens. The flop was devoid of deuces and Christner fell in second place, earning $864,000. Sontheimer took the title and $1.51 million in prize money.
Steffen Sontheimer simply crushed the Poker Masters this past week. He made four of five final tables with victories in Event #2 and the Main Event. In addition, he earned $2.73 million and the Poker Masters Purple Jacket.
To say this is a breakout year for Sontheimer is an understatement. He just started playing live events in 2015 and last year he earned just $485,000. After the Poker Masters Main Event, he now has over $5.75 million in earnings for 2017 alone.
He now has over $6.2 million in live tournament earnings and has cracked the top 200 on the Poker All-Time Money List. If this year is indicative of things to come, we will hearing a lot more from Steffen Sontheimer over the next few years.
Photo courtesy Poker Central.
bottom corner