top corner
PokerStars PSPC Delayed Once Again
Pokerstars Pspc Delayed Once Again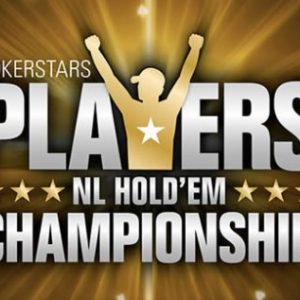 Back in 2019, PokerStars held its first PokerStars Player's NL Hold'em Championship (PSPC). The 1,039 player event was eventually won by Ramon Colillas who earned a $5.1 million top prize. Last year, the COVID-19 pandemic postponed the event until this year.
Fast forward to this week, and now PokerStars has once again canceled the event. The company announced the news via both its blog and online press release. While a future date is not yet known, the company will continue to hold promotions for Platinum Passes. The question is whether players will actually still care by the time they can cash them in.
PokerStars Postpones PSPC Again
Originally, the PokerStars Player's NL Hold'em Championship was to be played during the EPT Barcelona in 2021. However, on Wednesday, PokerStars announced that the event is once again postponed.
The announcement received via email stated, "We are sad to announce that the PokerStars Players No-Limit Hold'em Championship (PSPC) will not go ahead this year. However, we are excitedly looking ahead to a later date when we can truly celebrate being back with our community with a bang when the time is right."
PokerStars Players No Limit Hold'em Championship PSPC Event Gets Postponed Again https://t.co/gVEka5np2R

— pokerfuse (@pokerfuse) March 24, 2021
The notice continued by stating, "We are committed to running the PSPC at Casino Barcelona and making it a true celebration of poker. This event is one of a kind and we don't want to settle for anything less than an amazing experience for everyone with a Platinum Pass, and everyone yet to win one. To ensure everyone has the best experience we need to have a safe and comfortable environment. We truly can't wait to see all our players and run this event as it should be run."
Anyone paying attention to the EPT website might have seen this coming. CardPlayer pointed out that the only events listed on the site are the current EPT Sochi that runs through March 28th and another stop scheduled for October.
PokerStars Still Plans to Hold PSPC – Just Doesn't Know When
The ongoing uncertainty in the world over the COVID-19 pandemic forced PokerStars' hand in this matter. Some countries are imposing new lockdowns or restrictions that make it increasingly unlikely that the world will be back to any state of normal in 2021. This was to be expected as many countries, including the United States, are focusing on vaccinating the public.
However, PokerStars did state that they will continue to offer seats for the next PSPC, whenever it runs. According to the online presser, "This postponement will not affect any ongoing Platinum Pass promotions and we will continue to award Platinum Passes. In total, 400 of our players are set to turn their Platinum Pass into what we intend to be an exceptional experience. We look forward to highlighting our Platinum Pass winners, sharing their amazing stories, and creating that brilliant community of winners that we had in our inaugural event. Our Platinum Pass winners are a very special community and we will continue to plan activities and surprises in the run-up to the event, albeit with a longer than expected lead time. We promise it will be worth the wait."
The PSPC provided wildly successful in 2019. It awarded over $26.4 million in prizes to 181 different players. Six of the final eight players walked away poker millionaires, including Ramon Colillas who won $5.1 million.
Will Players Still Care in 2022?
Assuming that 2022 will be the next running of the PSPC, one has to wonder if players will still be as excited for the event as they were in 2019. In 2019, the poker world promoted the event heavily and PokerStars went all out in building up the field. Two years later, will there still be the same buzz or will we see a significant drop in attendance.
My initial guess is that we will see a significant drop in attendance. Partially because of the delay and partially because some will still be leery of traveling due to ongoing concerns over the current pandemic. Granted, that's assuming that 2022 is the next running of the event. If that fails to happen, don't be surprised to see PokerStars move this event online and then shelve the series shortly thereafter.
bottom corner