top corner
Michigan iGaming Bill to Receive October Push
55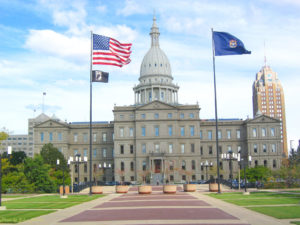 While online gambling legislation has stalled in nearly all states that have proposed it, one state lawmaker believes that it can be done. According to a report by Online Poker Report, Michigan State Rep. Brandt Iden believes that Michigan can still push forward on iGaming in 2017 and even believes that he can get a bill passed through the house before Thanksgiving.
Iden Looks to Negotiate Heavily During October
Iden spoke with OPR regarding H4926 and believe that he has a shot of pushing the bill through prior to the Thanksgiving holiday. He told them that he plans to "gain a lot of headway" during October and looks to negotiate with all sides.
Iden faces a fairly steep task ahead of him. The present house bill faces heavy opposition by the largest gaming forces in the state. All three of Detroit's commercial casinos oppose the bill. None of 12 tribes that operate casinos in the state have spoken in favor of the bill.
How does Iden plan to bridge the gap? He has already been in contact with various tribal councils to ask for their input on what should be in the legislation. According to Iden, "I'm telling them I have the desire to work with you to make this legislation right, but if you don't come forward we're going to proceed anyway. I think the message is starting to resonate. I'm not naïve. I do understand there are some hoops we'll have to jump through so everyone believes it is equitable."
Iden Looks to Avoid Problems Experienced in California
Iden knows that he needs the support of the both commercial and tribal casinos in order to move the bill forward. As he told OPR, "If we're unable to get the tribes and corporations together with framework agreeable to all, it won't be able to get through the House. Getting through the committee is the easy part, but getting through the full House is different, and we'll need support from all the casinos to do that."
Iden is looking to avoid the issues that California have had in passing iGaming legislation. Differences between lawmakers and California Tribes have resulted in a stalemate. Lawmakers didn't even put forth a serious effort to pass iGaming in 2017 due in part to the impasse.
Should the bill have a shot to pass, then a consensus is needed and Iden states that he won't even bother to move the bill out of committee until there's an agreement on the language that works for all stakeholders.
Ambitious Endeavor Will Likely Fall Short – This Year
While we applaud Iden for his tenacity, it is hard to see him being able to pull together all parties in such a short amount of time. Should he manage to pull off such a feat, it will bode will for Michigan's chances of passing iGaming legislation. However, this type of negotiation usually takes longer and it is hard to see this happening in just over a month.
However, even if he doesn't succeed, any positive developments from his attempt could be a stepping stone for the state passing an iGaming bill in 2018. If anything, Iden could be laying a foundation in 2017 that results in Michigan coming out of nowhere to become the fourth state to regulate online gambling in the United States.
bottom corner