top corner
Kristen Bicknell Becomes First Aria High Roller Winner
1485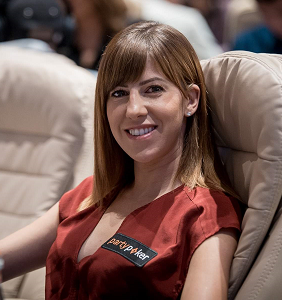 The last of the Aria Summer High Rollers concluded on July 10th, but it took a while to discover the final results of those events. Tournament officials posted the results and some big names took down some of the final events of the season.
Most notable among the list of winners in the closing events was Kristen Bicknell. She became the first-ever winner of an Aria High Roller event.
Jake Schindler Celebrates Independence Day With a Win
The July 4th $10k Aria High Roller drew a small field of just 16 entries, creating a prize pool of $160,000. Just three people managed to cash in this independence day edition.
Sam Soverel managed a third-place min-cash of $25,600, leaving Vincent Ramon and Jake Schindler heads-up for the title. Ramon ended up finishing runner-up for $48,000 while Schindler took down the event $86,400.
This was Schindler's first win of 2019 and ended up being a precursor to a deep run in the 2019 WSOP Main Event where he finished 67th.
Kristen Bicknell Becomes First Female Aria High Roller Winner
The July 5th $10k High Roller made history as Kristen Bicknell became the first female Aria High Roller winner. Bicknell has been becoming a serious threat in high roller events over the last couple of years.
She finished 5th in Event #5 of the 2019 US Poker Open and was runner-up in the $25k High Roller at the LA Poker Classic in March.
The July 5th $10k event drew just 12 entries for a prize pool of $120k. Bicknell was heads-up against Sergi Reixach and ended up walking away victorious Reixach earned $36k while Bicknell won $84,000.
While the score was somewhat small for "High Roller" standards, she still walked away a winner and made history while doing so.
Juan Dominguez Wins Four Aria Summer High Roller Title
Juan Dominguez has simply dominated the Aria Summer High Rollers and took down his fourth title on July 6th. That event drew 21 entries for a prize pool of $210,000.
Just three players were paid and Poker Central founder Cary Katz finished third for $33,600. Heads-up play was between Dan Smith and Juan Dominguez with Smith ultimately falling in second. He earned $63,000
Dominguez earned $113,400 for his fourth win of the summer. He has five cashes in Aria High Rollers this year, four of which are victories. He has earned $608,965 so far.
Stephen Chidwick Wins Small $10k Event
Stephen Chidwick just continues to rack up wins. After taking down the $25k PLO High Roller at the 2019 WSOP, he finished runner-up in a June 10k Aria High Roller. He then won one of the final two Aria High Rollers on July 7th.
This was another small field with just 10 entries, making a $100,000 prize pool. Matthias Eibinger and Chidwick were the only players paid and Eibinger finished runner-up for $30k. Chidwick added $70k to his bankroll along with his fourth win of 2019.
Mikita Badziakouski Wins Final Aria High Roller Event of Summer
The final event of the Aria Summer High Roller Series was a $25k NL Hold'em Event on July 10th. A respectable field of 21 entries came out for this one, creating a prize pool of $525,000. The final three were paid and you couldn't ask for a better top three.
Steffen Sontheimer earned the "min-cash" award for this event, finishing in third for $84,000. The final two players swept all but one $25k Aria High Roller this summer. Matthias Eibinger won the May 26th $25k Event while Mikita Badziakouski won the July 2nd and July 3rd editions.
Looking at the payouts, it would appear that the pair ended up chopping the prize money. Eibinger received $192,780 for second while Badziakouski earned $248,220 for first. Regardless, Badziakouski earned his third $25k High Roller title of the summer.
The Aria Summer High Roller Series is now in the books and we can look forward to the future. According to the calendar of events, the next big event at ARIA is the 2019 Poker Masters in November.
One thing that stuck out about this summer's series was the smaller field size. Organizers event changed the schedule and reduced $25k events in July to just $10k with the exception of the final event.
With numbers suffering and the World Series of Poker offering more High Roller events, one has to wonder if there will be an Aria Summer High Roller Series in 2020.
Editor's Note: When referring to Aria High Rollers, we are referring to the standard high rollers, not Poker Major events such as the Poker Masters or U.S. Poker Poker.
bottom corner