top corner
Elio Fox Leads WSOP POY – Doyle Brunson Retirement Exaggerated?
543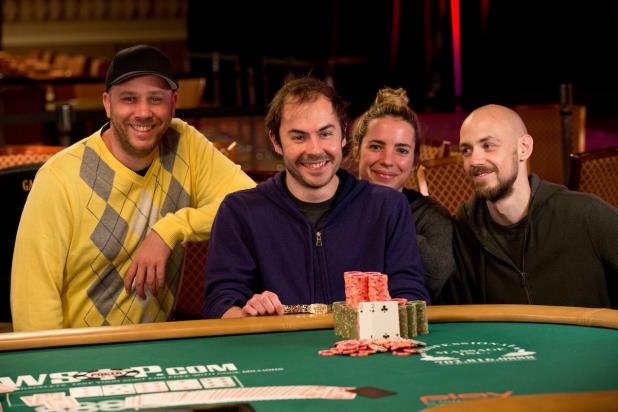 Two weeks of the 2018 World Series of Poker are now in the books and we have a strong frontrunner for 2018 WSOP Player of the Year. Elio Fox has a sizable lead over Paul Volpe and Joe Cada for the POY honors. While it is still early, he has a 469 point lead, meaning that another player is going to have to go on a serious run to make a play for the title.
Meanwhile, it appears that Doyle Brunson may not be as serious about "retirement" as we were led to believe.
Elio Fox Holds Strong Lead After Two Weeks
Elio Fox is the present frontrunner for the 2018 WSOP Player of the Year title. He has a 469 point lead over the next closest player after a strong opening week. Fox won his second career WSOP bracelet after taking down Event #2, the $10k NL Super Turbo Bounty Event. He then proceeded to finish runner-up in the $100k NL High Roller. Since then, he finished 92nd in the Millionaire Maker to bring his point total to 1,743.65.
After 2 weeks, Elio Fox (@smokrokflock) still leads the POY racehttps://t.co/GefyRuzy4y pic.twitter.com/vgLZHlP4T6

— WSOP (@WSOP) June 14, 2018
Paul Volpe is the next closest player with 1,274.68. He won the $10k Omaha Hi-Lo Championship, finished 3rd in the $10k Super Turbo Bounty and cashed in both the $100k High Roller and the $100k NL 2-7 Draw Championship.
Joe Cada is third in points with 1,269.75 points. He's already cashed five times this summer, including winning his third career bracelet in the $3k NL Hold'em Shootout. Nick Petrangelo is the only other player currently with more than 1,000 points, presently at 1,026.20. His only cash was his victory in the $100k High Roller.
Granted, the 2018 WSOP is only two weeks old, but Fox's lead is going to be a tough one to surmount. Of course, there is plenty of action still to come with only 29 events having kicked off out of 78 total.
One big difference this year is that the players atop the leaderboard have all won a WSOP bracelet. One criticism of the previous POY formula is that players could ladder up the POY leaderboard without winning a bracelet. That formula was changed prior to the 2018 WSOP to give more weight to deep runs and wins over simply cashing.
Doyle Brunson Backtracks a Bit on "Retirement"
As you already know, Doyle Brunson announced his retirement from professional poker on Monday when he entered the $10k NL 2-7 Lowball Championship. At that time, it was reported he was not only leaving tournament poker, but all forms of poker to be with his wife.
Doyle then proceeded to make the final table of the event and eventually finish in sixth. At the time of the final table, the reports of his retirement were beginning to morph into "he might play the $50k Poker Player's Championship" and with no mention of his leaving Bobby's Room.
The Doyle put out the following tweet on Wednesday:
I didn't mean to make such a fuss over my "retirement". I meant probably no more WSOP tournaments. That isn't written in stone however. When they start the mixed games on high stakes poker, I'll be there. Probably not so much cash games but I appreciate all the nice thoughts.

— Doyle Brunson (@TexDolly) June 13, 2018
Doyle leaving the tournament scene isn't exactly new news because he has only played a handful of WSOP events in recent years. However, the original reports that he was leaving cash games seemed a bit off considering that his wife had been ill for a while.
Perhaps the recent run made him change his mind, or maybe he really did miscommunicate. After all, at 84, he can be forgiven if he has the rare "senior moment."
Brunson admitted in recent interviews that he is still winning at high stakes cash games, so it's no surprise that he still plans to play them when available. His family will naturally come first, but with any luck, he will be able to still find a way to enjoy both for as long as possible.
Photo Credit – WSOP.com
bottom corner